Detroit Lions: Passing through the seven stages of Matthew Stafford grief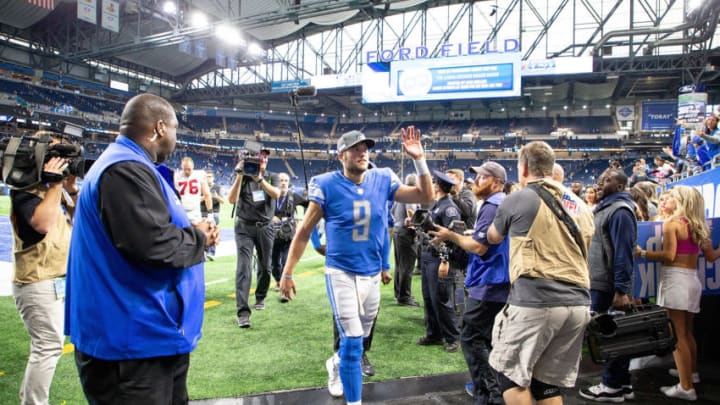 Matthew Stafford, Detroit Lions (Photo by Leon Halip/Getty Images) /
Matthew Stafford, Detroit Lions (Photo by Joe Robbins/Getty Images) /
Stage 6: Reconstruction and Working Through
Reconstruction–it's such a fitting word in this case, as the new regime has the monumental task of sorting through the wreckage. Attempting to restore what is left of this once-great franchise and seeing if there's anything that can be put back together.
To say that I'm skeptical of the Dan Campbell hire would be an extreme understatement. First-time general manager Brad Holmes is a giant question mark as well (early impressions on him have at least been largely positive).
However, some of the lesser-heralded personnel moves behind the scenes offer some more concrete reasons to have hope that a winning foundation is being set in Detroit. Anthony Lynn and John Dorsey provide instant credibility and track records in their roles, and getting Chris Spielman in the mix can do nothing but help from a franchise culture standpoint.
The 2021 season is going to be extremely tough. Even from the most ardent Honolulu Blue Kool-Aid drinkers that I know or follow, I haven't heard anyone suggest any differently. I'm not necessarily excited about that prospect, but there's no choice but to work through it. At the very least, I can agree that a major reconstruction was needed, whether or not Stafford could be convinced to stay for it.
Stage 7: Acceptance and Hope
Hearing the news that Stafford is on his way out of Detroit stings like a bite to the kneecap, but I accept that the Lions will have a new quarterback in 2021. I hope that everything works out for the best, that the Lions can find a veteran quarterback who can at least keep things entertaining and competitive as the team develops a youngster who in a few years can pick up right where Stafford left off and deliver even more.
I hope that Matthew Stafford can shut up his detractors once and for all at his next destination and find the much deserved postseason success that has eluded him for so long. Once that happens and enough time has passed on both sides, I hope Stafford will consider returning to the franchise in one way or another down the road.
As for the new-look Detroit Lions, I hope that the promising young players in the offense, D'Andre Swift, T.J. Hockenson, and Kenny Golladay among others, will stay the course and grow together into one of the league's best units. I hope that Frank Ragnow and Taylor Decker can build up the line and protect the next man up.
At the end of the day, I'm still greatly disappointed that this is how the Matthew Stafford era ends in Detroit (at least for now). But at the end of the day, there's always a new day.