Detroit Lions: Passing through the seven stages of Matthew Stafford grief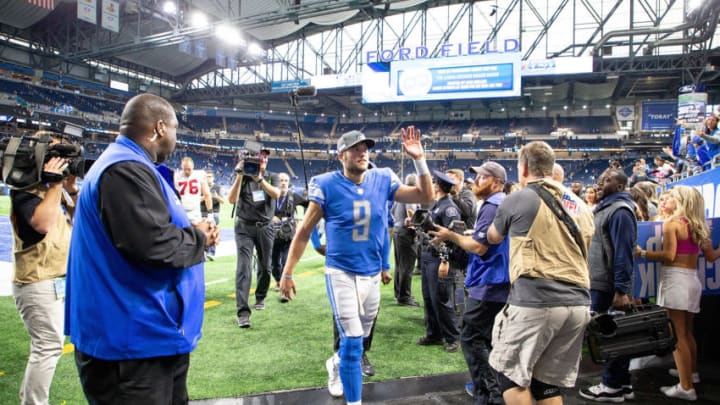 Matthew Stafford, Detroit Lions (Photo by Leon Halip/Getty Images) /
Ford Field, Detroit Lions (Photo by Leon Halip/Getty Images) /
Stage 4: Depression
Here is the current state of the Detroit Lions:
The greatest quarterback in franchise history is heading out the door.
The backup tight end from the 0-16 team is now running the show.
People can speculate or fantasize about the future all they want, but the two statements above are the facts of the present.
Stage 5: The Upward Turn
That moment when you realize you're a Lion for life and that you've been through worse.  That moment when you realize that one day they will return to greatness, and we're all going to celebrate for weeks like it's the fall of the Berlin Wall.
Lions fans are characterized by a certain resilience that is equal parts passionate, irrational, and completely at odds with the on-field product since the Ford family bought the team in 1963. Anyone born around that time has already endured several lifetimes of sports fan misery, more than enough to justify finding a new Sunday afternoon hobby. And yet, nobody is going anywhere.
That moment of awareness was the upward turn for me. Understanding that we as fans are not going anywhere. We made it through Barry rushing for minus-one yard in the playoffs, the Murphy's Law game at Philly the next year, Barry walking away, the Marty Mohrninweg era, the 2008 season,  the 2013 meltdown, a full generation between wins at Lambeau, Matt Patricia's arrogance and his "1934" hat, then Matt Patricia and Bob Quinn setting the franchise back almost that far.
That's a longwinded way of saying that we're starting over from scratch again, but the upside is that it's one more chance to get it right this time. Matthew Stafford was far and away the most important Lion of the last 50 years, but that doesn't mean someone can't come along and become the most important Lion of the next 50.