Detroit Lions: Passing through the seven stages of Matthew Stafford grief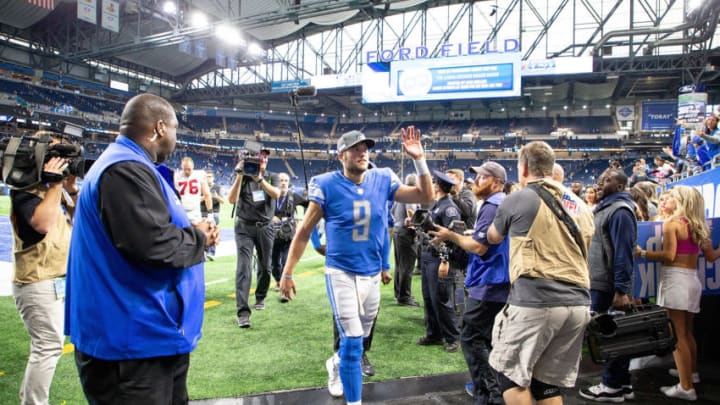 Matthew Stafford, Detroit Lions (Photo by Leon Halip/Getty Images) /
Matthew Stafford, Detroit Lions (Photo by Leon Halip/Getty Images) /
After twelve seasons, 165 starts, 74 wins, 282 touchdown passes, three playoff appearances, 45,000+ passing yards, 30 comeback wins, countless injuries toughed out, and endless clutch 4th quarter moments, Matthew Stafford's tenure as the Detroit Lions quarterback is coming to an end.
When Stafford's trade request was first reported by Tom Pelissero of NFL.com late last week, I chose not to write anything about it in the immediate aftermath. Writing off emotion only doesn't always work out very well for me, so I give it some time in order to let the thought of life without Stafford sink in properly.
Without meaning to sound overdramatic or to trivialize the feelings of anyone suffering through genuine loss, my reaction and processing of our long-time quarterback wishing to move on has been similar in some ways to the classic "Seven Stages of Grief" model of coping.
With that model in mind (again, clearly on a smaller scale), that's how I've chosen to organize my thoughts for this piece: basically a coming to terms with the fact that the Lions will have a new leader starting in 2021, and just like Stafford, whoever it is will be largely starting from scratch.
The Seven Stages of Stafford Grief
Stage 1: Shock/Denial
Out of the seven stages, this is probably the one that I've spent the least amount of time in since the announcement was made last week. It's disappointing news, but not really shocking in this case.
Whispers about a complete franchise overhaul, small little signs of growing frustration from Stafford, and his continued build-up of injuries meant that this type of speculation has been heavily swirling since December.
Shortly after Stafford's season-ending back injury a year ago, when he was still being listed as "week to week", I had the following to say at SideLion Report:
""Calvin Johnson left after nine years, Barry Sanders after ten. Stafford has been in Detroit for eleven years and taken more of a beating than either of them combined. He has three young daughters and his wife is still in recovery from brain surgery, and despite playing literally the best football of his career, the Lions still continue to defy success. We've seen before how this sort of thing can play out.""
One year later, we're seeing it play out once more, another star leaving town with plenty of years of good football left in them. Anyone who is blindsided or shocked by this hasn't been around long enough. That doesn't make it hurt any less though.