College decision by Colby Sorsdal sold the Detroit Lions on drafting him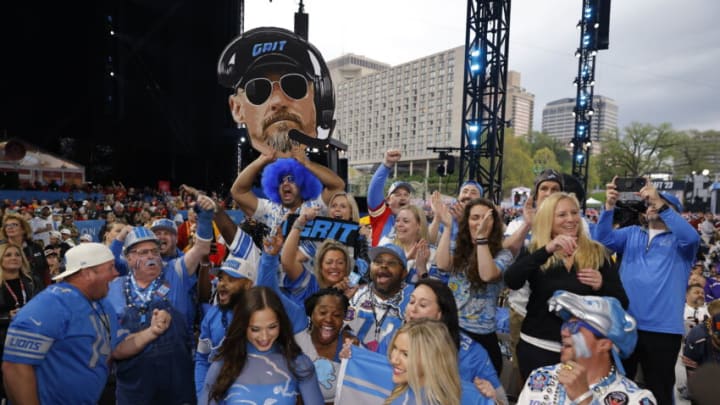 KANSAS CITY, MO - APRIL 28: Detroit Lions fans react to their teams selection in the second round of the 2023 NFL Draft at Union Station on April 28, 2023 in Kansas City, Missouri. (Photo by David Eulitt/Getty Images) /
Colby Sorsdal was not a widely well-known prospect, but a decision he made in college pretty clearly sold the Detroit Lions on drafting him.
When the Detroit Lions took William & Mary offensive tackle Colby Sorsdal in the fifth round of the draft, it's safe to say about 85 percent of people went "who?" Offensive line gurus like Duke Manyweather and Brian Baldinger were familiar with him, but it was fair to say he was not a widely familar name coming out of the FCS.
But Sorsdal's potential should not be undersold. He may have to kick inside to guard in the NFL to stick around, but he comes in with 46 collegiate starts on his resume. There was clearly something about him the Lions liked, even it meant taking him a round or two earlier than might have been projected.
Dan Wetzel of Yahoo! Sports put out a profile on Sorsdal this past week.
Colby Sorsdal sold the Detroit Lions on drafting him with an against the grain decision
Sorsdal graduated from William & Mary with a degree in kinesiology in 2022. If he wanted to, he could have entered the transfer portal as a grad transfer and gone to an FBS school to finish out his football eligibility. Per Wetzel, he would have surely had options.
"Linemen with his size and his talent are always coveted transfers and there was enough buzz around him that he knew famous Power 5 conference schools wanted him,""The allure of big stadiums, national television and top-line competition to showcase himself to the NFL was there.""
But Sorsdal stayed. Why?
"I wanted to help build a legacy,"
William & Mary went just 4-6 in 2018, Sorsdal's first year with the program, while averaging 13.6 points per game. They went 6-5 in 2021, then 11-2 last season as they averaged 33.5 points per game and reached the FCS quarterfinals.
Sorsdal was asked by NFL teams why he decided to return to William & Mary, a perfectly understandable question is this era of rampant player movement in college football. He recalled to Wetzel what he said in response to the question.
"What I told them was, 'I wanted to finish the job,'" Sorsdal recalled. "I've always had the sense of loyalty that, 'Hey, these guys gave me a chance. They gave me a scholarship. I owe it to them.'""
Then came how that answer landed with teams, in an expected fashion, and the specific mention of Lions head coach Dan Campbell.
"They loved it," Sorsdal said. "I think Coach Campbell (in particular)."
It's absolutely no surprise Campbell loved Sorsdal's answer professing loyalty and wanting to "finish the job" at William & Mary. Time will tell if Sorsdal sticks. But he sold the Lions on why they should draft him with a genuine answer to why he made a big decision about the end of his college career.