Detroit Lions had biggest jump in attendance of any NFL team this year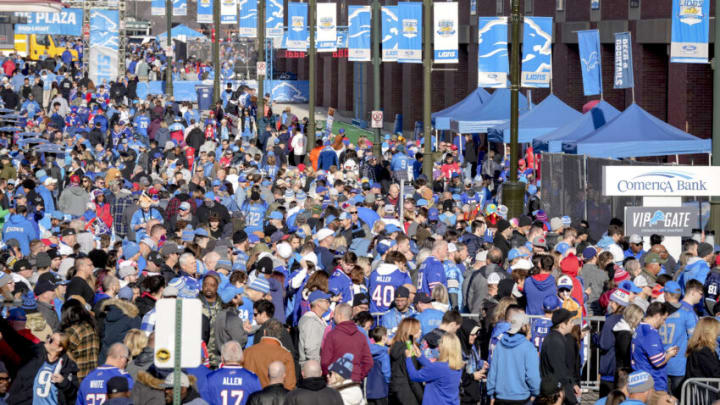 DETROIT, MICHIGAN - NOVEMBER 24: Fans enter the stadium prior to a game between the Buffalo Bills and Detroit Lions at Ford Field on November 24, 2022 in Detroit, Michigan. (Photo by Nic Antaya/Getty Images) /
It's not too surprising, really, but the Detroit Lions had the biggest jump in attendance among NFL teams this season.
The Detroit Lions have a large contingent of loyal fans, despite a long-running history of ineptitude. But that doesn't always translate to local fans attending home games. If you're going to suffer with losses, you can do so far more inexpensively in the comfort of home watching on television.
In 2021, the Lions had one of the league's lower attendance numbers as they went through a 3-13-1 campaign. There was a lot of positive buzz around the team heading into this year, then they had a 1-6 start.
But as we know Dan Campbell's squad won eight of their last 10 games to finish 9-8 with a chance to make the playoffs in Week 18. Reporters in the building often noted how full Ford Field was for home games over that stretch, and the final five home games were all sellouts.
Detroit Lions lapped the field for NFL's biggest spike in attendance this season
According to Sports Business Journal, the Lions sold 63,400 tickets per home game this season compared to 51,500 tickets per in 2021. That 23.1 percent increase was the largest in the NFL, by a pretty good margin. Ford Field holds about 65,000.
The next biggest jump in attendance this season belongs to the Jacksonville Jaguars, who rallied to finish above .500 themselves, won the AFC South and have now won a playoff game, at 10.82 percent. Only one other team, the Washington Commanders, had an attendance jump over 10 percent this season.
Depending on where it should become notable, I'll draw a line at around 2,000 raw tickets, nine teams had an attendance increase of more than five percent this season.
Per SBJ, Overall NFL attendance was up 3.35 percent this season and 96.7 percent of seats were sold. That may have owed somewhat to timing.
"Broad consumer behavior and economic conditions were part of the story. Experts say most NFL tickets were sold this year during a brief period after the COVID-19 threat had passed and before inflation became serious.""
Elsewhere in the NFC North…
The Green Bay Packers and Chicago Bears had the highest (2.32 percent) and second-highest (1.66 percent) attendance decreases respectively, and the Minnesota Vikings (.02 percent) were also among the six teams who had an attendance drop this season.