Detroit Lions: Is familiarity the key to a defensive turnaround?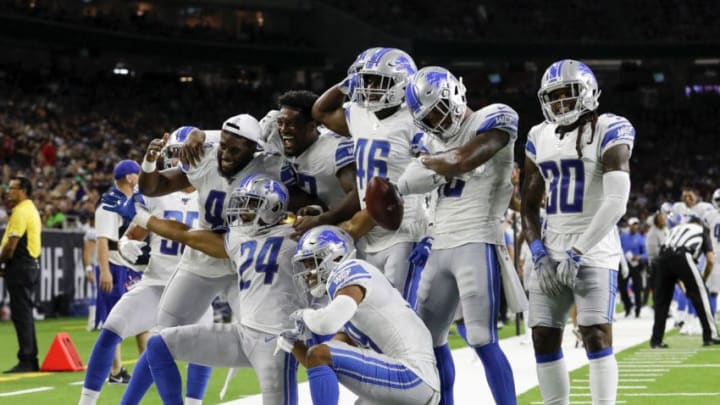 Detroit Lions (Photo by Tim Warner/Getty Images) /
Will familiarity save the Detroit Lions' defense despite the stunted offseason?
The Detroit Lions have had a clear plan in place over the past three years of how to turn a 9-7 team into a playoff winner. Heading into Year Three of that plan and the duo of general manager Bob Quinn and head coach Matt Patricia have only been able to rack up a total of nine wins in two seasons of work.
And with a not-so-subtle mandate from ownership to turn the 3-12-1 Lions into a playoff contender in 2020, Quinn and Patricia elected to stay the course and follow the plan they started to implement together back in 2018.
The majority of said plan has centered around forcing a culture change upon the Motor City. Specifically, the culture of the New England Patriots as both Quinn and Patricia are disciples of the Bill Belichick way. That means bringing in several ex-Patriot players and getting rid of anyone who doesn't toe the company line both on the field and in the locker room.
Despite any burning sensation from their respective hot seats, both Quinn and Patricia stuck to that plan this offseason. They continued their annual efforts to add more former Patriots to the roster which this year included linebacker Jamie Collins, defensive tackle Danny Shelton, and safety Duron Harmon. All three should join fellow ex-Pats like defensive end Trey Flowers, cornerback Justin Coleman, and wide receiver Danny Amendola in the starting lineup this season.
ALSO READ: 2020 Detroit Lions roster preview – What the offense has to offer
The Lions have been heavily criticized for their constant recruitment of former Patriots, thereby copy and pasting the methods of another franchise instead of forging an identity of their own in Detroit. Yet, as one Lions' insider recently pointed out, the fact so many of the team's new faces are familiar with Patricia's scheme could actually give the defense an edge due to the shortened offseason training program.
Here's what Justin Rogers of The Detroit News recently wrote in an article about how Patricia's job status could be determined by his ability to field a better defense in 2020.
""But from a personnel standpoint, the Lions are leaning hard into Patricia's New England roots … There's nothing wrong with familiarity, and given the way the ongoing COVID-19 pandemic has altered the landscape of this offseason, those players' experience in the scheme should be invaluable when you factor in how little practice time teams will have prior to the start of the regular season.""
Detroit Lions' defense now best represents the culture change
Of the 11 defensive starters who should take the field Week One when the Lions play the Chicago Bears at Ford Field, five of them will likely be former Patriots. And out of the other six, four starters will likely be players drafted after Patricia was hired on as head coach. I'd say the culture change is all but complete. The only thing left to do is win football games.
In a league where every team is searching for a competitive edge, the Detroit Lions may have inadvertently stumbled upon one. By investing so heavily in players who have intimate knowledge of Matt Patricia's defensive scheme from his time with the New England Patriots, the Lions should be able to integrate many of their newest additions much quicker than most NFL teams following a stunted offseason.