Detroit Lions: Offensive optimism may be hurt by the big picture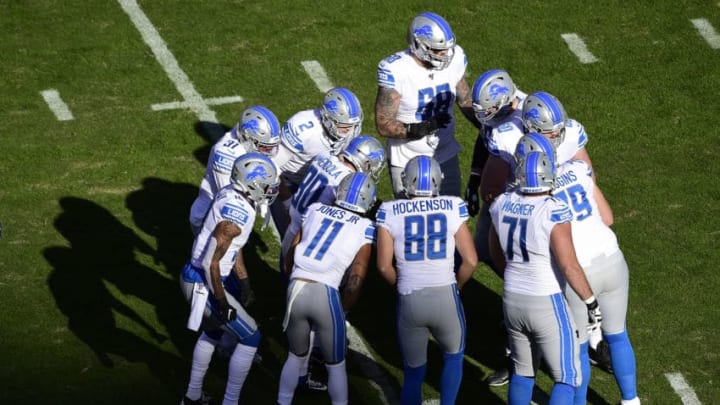 Detroit Lions (Photo by Patrick McDermott/Getty Images) /
Trey Flowers, Detroit Lions (Photo by Rey Del Rio/Getty Images) /
Detroit Lions fans may feel offense optimism. But the big picture does paint a big concern.
The Detroit Lions virtual offseason continues to march on. And the press continues to have virtual press conferences with Matt Patricia and his players to ask the burning questions that cannot be answered without any actual practice under the team's belt.
So everything we think we know about next season is nothing more than pure speculation. Nothing more than hope for some.
It's a situation that no one wants to be in, yet some team will find a way to make it work. Provided the NFL plays a full season this fall, some team will be crowned Super Bowl champions. Just like any other year.
We've heard plenty of speculation that perhaps the Detroit Lions could be this year's San Francisco 49ers. Perhaps they can flip the script and turn into a juggernaut that makes a run at a title. Maybe, but there is one major difference between last year's 49ers and these Lions. Defense.
Sure the 49ers were a pretty good offensive team last year. Remember how they won that big shoot-out in New Orleans 48-46? But overall what allowed the 49ers to make that run to the Super Bowl was playing really good defense. Especially in the front seven.
That 49ers defense could stuff the run and was very good at getting to the passer on a frequent basis. Can the Lions defense go from being one of the worst in franchise history to being that good next year?
Even the most optimistic fan has to agree that despite making some headway with personnel on defense, the Lions would still appear to lack a premiere pass-rusher and are still not deep enough on the defensive line. Injuries happen in the NFL. Do the Lions have enough good players in their front seven for the 'next man up' to be capable of stepping up?
For Lions fans, any optimism has to come from belief in the offense. An offense that appears to be capable of carrying the defense if it can at least improve to average. But is there a reason to be concerned about the offense?