Detroit Lions: Offensive optimism may be hurt by the big picture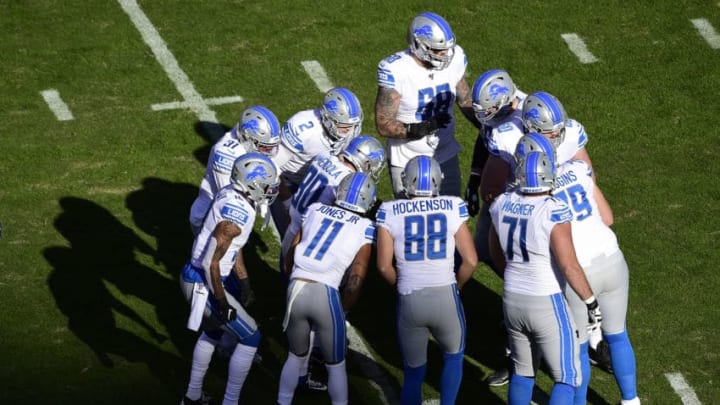 Detroit Lions (Photo by Patrick McDermott/Getty Images) /
Kenny Golladay, Detroit Lions (Photo by Adam Bettcher/Getty Images) /
The Lions' most tenuous position on offense?
Every season there are teams that appear to be loaded up for a title run and are considered the favorites to be hoisting the Vince Lombardi Trophy in February. Yet even the best of them can be felled from contention by a key injury. The common denominator around the NFL is that if your franchise quarterback gets injured for any substantial time, then the season is over.
We experienced that last year in Detroit. Matthew Stafford was playing as well as any other quarterback in the league before his back injury ended his season in Oakland.
Now the caveat is that the defense was so poor last season that even with Matthew in the lineup it was going to be next to impossible to overcome it and make the playoffs.
However, the Lions were quite obviously going nowhere without Matthew. So Stafford being on the field for 16 games next season is imperative for a start, but what about beyond that? The offensive line seems to be improved and deeper and the backfield has two backs capable of being stars, if healthy while being surrounded by capable complementary pieces.
Translation; the Lions would appear to be capable of running the ball. As a matter of fact, they appear to be capable of running the ball pretty well. Of course, this is more speculation, but what else do we have to go on this offseason?
So a healthy Matthew Stafford and a running game that performs at least near its potential is a great building block for the offense and the Lions as a whole.
Which leaves us the Lions passing attack. This has clearly been the undeniable strength of the Lions for as long as Matthew has been in Detroit. Has it always been good enough? No, but it has produced some special seasons despite having little to no help from the ground game.
With receivers like Kenny Golladay, Marvin Jones, Danny Amendola, and the expected progression of second-year tight end T.J. Hockenson, the passing game appears to once again be primed to deliver more aerial thrills.
However, if we're being honest, the receivers are also quite probably the Lions' most tenuous offensive position outside of quarterback.