Exactly who are the Detroit Lions core players right now?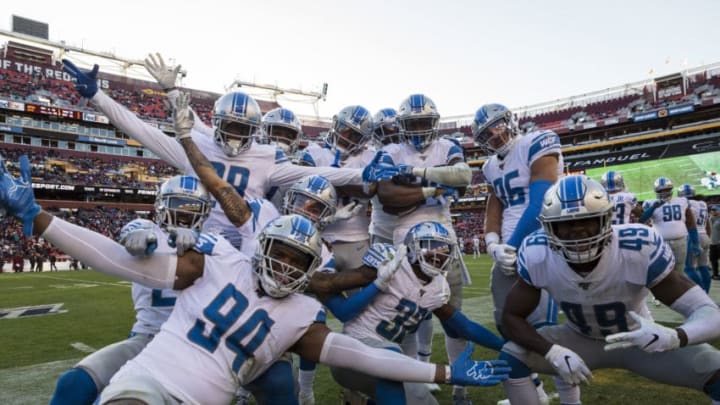 LANDOVER, MD - NOVEMBER 24: Amani Oruwariye #24 of the Detroit Lions celebrates its teammates after intercepting a pass against the Washington Redskins during the second half at FedExField on November 24, 2019 in Landover, Maryland. (Photo by Scott Taetsch/Getty Images) /
Can anyone identify the core players that make up the meat of the Detroit Lions? Here's why you shouldn't drink those muddy waters quite yet.
Detroit Lions head coach Matt Patricia has stated more than once that he needs consistency from everyone but especially from his core players. The question then becomes, who are these core players, exactly?  The answer is about as muddy as the thickest stirred up muddy water you can imagine, or so it would seem.
Several years ago NFL analyst Bucky Brooks wrote an article on modern-day football rosters and their ranking in terms of importance. He starts with the quarterback. That immediately makes things murky as Matthew Stafford is now 32-years old and missed half of last season due to a back injury.
Then there's the fact that Stafford is using up the most salary-cap space on the team. According to Spotrac.com, he takes up an estimated 9.83 percent of that space with a team-high $21.3 million cap hit scheduled for 2020. Add to that the Lions draft third overall in the 2020 NFL Draft, which is a spot ripe for a quarterback selection and you get mud.
The next position is right defensive end/right outside linebacker, which is to say the position that Trey Flowers holds. Considering that Flowers was signed to a five-year, $90 million deal last March, I can say with some certainty that this core player is in place in Detroit.
In the third spot is left tackle. That position belongs currently to Taylor Decker, who is in the last year of his rookie contract. If he is the right player for this core role then next year he will be getting a very hefty increase in salary in the form of a contract extension. If he is not the right player for the job, then a replacement needs to be found and the third overall pick in April's draft is an ideal place to do so.
In the fourth spot is left cornerback, one currently occupied by Darius Slay. Undoubtedly you have heard about Slay and the Lions discussing a possible contract extension and rumored trade talk. and of course, could be franchised tagged next year if need be. It doesn't help that there is a high ranking cornerback in the 2020 draft named Jeffrey Okudah from Ohio State either. Once again, muddy.
We are only four spots into a ranked listing of so-called core players and two of them may not be on the roster beyond 2020. Perhaps by year's end, all four will be locked up. But who will it be? Current players on the roster, draft picks, trades, or free agent signings are all guesswork at this point.
In fact, it's all too much guesswork. Even though we believe quarterback, right defensive end/right outside linebacker, left tackle, and left cornerback are the Detroit Lions core players right now, we can't be sure Matt Patricia feels the same. Or even in that order. All I can say is don't drink the muddy water. Instead, let's wait and see if it clears up as the offseason progresses.