Report Card: Grading the Detroit Lions at the quarter mark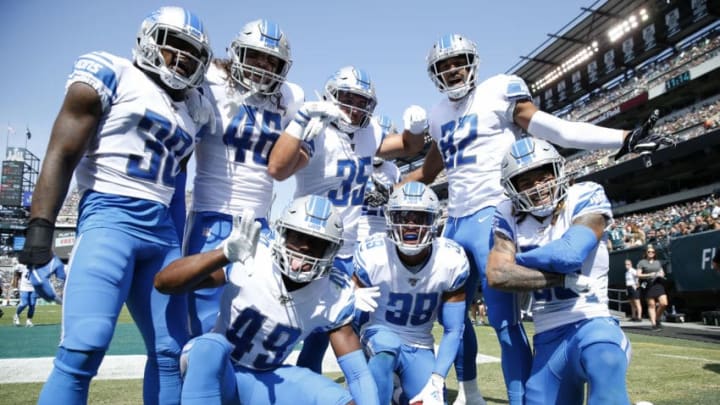 PHILADELPHIA, PENNSYLVANIA - SEPTEMBER 22: Jamal Agnew #39 of the Detroit Lions celebrates his 100 yard kick off return for a touchdown with teammates Dee Virgin #30,Nick Bawden #46,C.J. Moore #49,Miles Killebrew #35,Logan Thomas #82 and Mike Ford #38 in the first quarter against the Philadelphia Eagles at Lincoln Financial Field on September 22, 2019 in Philadelphia, Pennsylvania. (Photo by Elsa/Getty Images) /
(Photo by Elsa/Getty Images) /
Offensive Line
Remember general manager Bob Quinn's first draft for the Lions in 2016? Remember the intense focus placed on repairing a broken offensive line that year and all of the subsequent related moves since? Remember all of the missteps, disappointing performances and growing pains endured during that time?
The Lions may finally be on to something. While the offensive front's pursuance has been far from perfect, the Lions may end up fielding the best o-line of Quinn's tenure this year if they pick up where they left off after the bye.
The anchor of the unit continues to be the interior, which has emerged as one of the strongest parts of the team through four games. Moving Frank Ragnow back to his natural center position has been a key part of the unit's improved play, as well as the ever-improving trajectory of guard Graham Glasgow.
Both continue to be favorite's of Pro Football Focus' (PFF) player grading system, with Glasgow currently the league's 3rd ranked guard with a mark of 82.6 and Ragnow checking in as the number two center (74.6). They've been excellent, and an improved running game would only boost their stature going forward.
The Lions curiously continue to rotate their guards, with Glasgow, Joe Dahl, and Kenny Wiggins, despite the first two clearly being the better options. Why this continues to be Patricia's tactic remains a mystery – is he just hoping to keep Wiggins fresh in case of an injury?
Regardless of the rotation, the trio was unable to help prevent Stafford from being sacked four times by the Chiefs after two consecutive sackless performances. That will need to be patched up with more dangerous pass-rushing units on the upcoming schedule. Reserve guards Oday Aboushi and Beau Benzschawel have yet to see any snaps.
At tackle, the Lions continue to trot out a serviceable if uninspiring duo. Left tackle Taylor Decker missed the Lions' Week 2 win against the Chargers with a back injury; an ailment that may have contributed to his miserable performance in Week 1. Though he has committed a team-high three penalties, he has been trending upward since then, with solid performances in the last two weeks.
Rick Wagner is an average right tackle that is paid like a Pro Bowler, plain and simple. Monetary considerations notwithstanding, they could do worse at the position. However, the Lions have to feel comfortable knowing that swing tackle Tyrell Crosby is ready should he be needed to step in at some point at either position. He held his own filling in for Decker in Week 2.
Overall, Detroit must be pleased with this unit's performance thus far, though there is definitely room to grow. Keeping Stafford upright and aiding in propelling the running game forward could be the difference between success and disappointment over the final 12 weeks of the season; count on the offensive line being a big factor in those distinctions.
Grade: B