Report Card: Grading the Detroit Lions at the quarter mark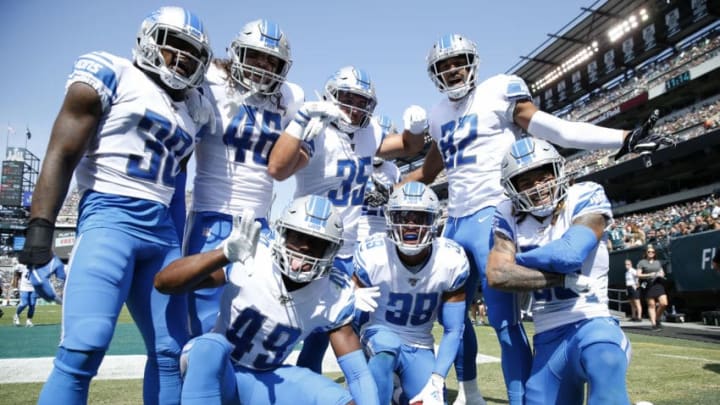 PHILADELPHIA, PENNSYLVANIA - SEPTEMBER 22: Jamal Agnew #39 of the Detroit Lions celebrates his 100 yard kick off return for a touchdown with teammates Dee Virgin #30,Nick Bawden #46,C.J. Moore #49,Miles Killebrew #35,Logan Thomas #82 and Mike Ford #38 in the first quarter against the Philadelphia Eagles at Lincoln Financial Field on September 22, 2019 in Philadelphia, Pennsylvania. (Photo by Elsa/Getty Images) /
(Photo by Christian Petersen/Getty Images) /
Wide Receivers
As was known to be the case before the season began, the Lions' top three wideouts are a talented, athletic and experienced group, capable of making big plays all over the field. Each of those three – Kenny Golladay, Marvin Jones, and Danny Amendola – has already had a 100-yard receiving game in the first four contests of the year, the only NFL team with such a distinction.
Golladay has been especially impressive, particularly in the red zone. He caught two jaw-dropping scores against the Chiefs and had another one controversially called back in the same game.
His leaping, game-winning touchdown grab against the Los Angeles Chargers in Week 2 was a thing of beauty. He needs to work on his sideline awareness, but he is tied for the NFL lead with four touchdown receptions and should have little trouble exceeding last year's totals.
Jones seems far removed from last year's difficult, injury-shortened campaign, and has returned to being one of Stafford's preferred targets on seam routes, an important facet of Bevell's offense. He has also shown a penchant for making diving catches, pulling several balls off the turf on low throws.
Amendola has been a solid addition, including an outstanding Week 1 performance as well as a beautiful sideline snare against the Philadelphia Eagles in Week 3. That catch, and its painful landing, however, cost him last week's outing, as he was forced to sit with a chest injury. It's unclear how much more time Amendola will miss – he's played in 16 games only twice in his career.
Behind these three, there have been few snaps to go around, and the Lions have continued to churn the bottom of the unit. Rookie Travis Fulgham did not have a role on the 53-man roster and joined the practice squad after being waived last week. Chris Lacy has had a similar in-and-out experience this season and is almost exclusively a special teamer. Neither has caught a pass yet this year.
The Lions may have found something in Marvin Hall, recently added to take Fulgham's spot. Hall is a speedy option who can play in the slot and outside, and had a beautiful sideline reception against the Chiefs to set up a Lions touchdown. Keep an eye on him, especially if Amendola's injury persists.
Grade: B+
(Photo by Gregory Shamus/Getty Images) /
Tight Ends
The most radically revamped unit on the team has shown some major improvements from a  2018 season that was essentially an afterthought. Yet, there is still a long way to go, and there are some concerns here through four games.
Rookie T.J. Hockenson has sandwiched two forgettable games (two catches, 8 yards combined) around two standout ones (nine catches, 158 yards, 2 touchdowns combined) including a record-breaking debut. He is a great route runner, is a nuisance in the red zone, and is steadily improving his run blocking as the entire running game rounds into form.
Drops have been an issue, as he let a sure touchdown hit the turf against the Eagles, and has allowed a handful of other catchable balls fall incomplete. Overall, the Lions must be pleased with what they've seen from Hockenson and are surely excited about his future.
Clearly the main concern right now is his health. He took a nasty spill against the Chiefs on an attempted hurdle play, hitting his head and shoulder on the turf. Hockenson was carted off the field and did not return to the game. He is currently in concussion protocol and his status for their first game after the bye against the Green Bay Packers is up in the air.
Should Hockenson need extended recovery time, the Lions will need more from Jesse James. He's been a non-factor on offense, registering just five catches so far for 46 yards and no touchdowns. His blocking has also been subpar. James did make a nice catch on a game-clinching third-down conversion against the Chargers, and his minimal receiving production isn't surprising considering the Lions' other receiving options.
Still, it would be nice to see James' 6-7 frame used a little more. After all, isn't that what they brought him here for at over $5 million per year? Hockenson's status will likely dictate how James will be used as the season continues, but if he's thrust into a bigger role, he'll need to make himself more dangerous.
The Lions have used two-tight end sets often this year in hopes of boosting their rushing attack. This has resulted in more stacked boxes and cluttered running lanes, but Hockenson, in particular, has shown the ability to motion across the formation and get open down the field due to the extra defenders near the line of scrimmage. Can James fill a similar role if Hockenson has to miss time?
Logan Thomas has been a rock as a third tight end, becoming a regular on special teams and even making some impressive athletic sideline catches to help prolong drives. He too will need to take on a bigger role should Hockenson's injury dictate such.
Grade: C+