Detroit Lions projected to surpass 6.5 wins in 2019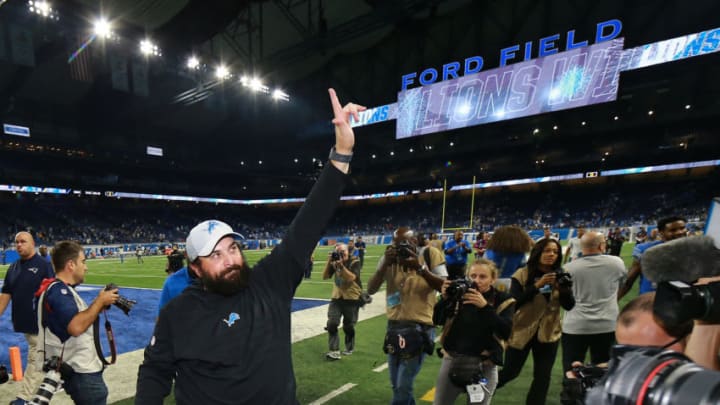 DETROIT, MI - SEPTEMBER 23: Head coach Matt Patricia of the Detroit Lions after the Lions waves to the crowd after defeating the Patriots 26-10 sat Ford Field on September 23, 2018 in Detroit, Michigan. (Photo by Rey Del Rio/Getty Images) /
With the additions the Detroit Lions made during free agency and the NFL draft, the team has been projected to smash the 6.5 over/under win total.
Things are looking up for the Detroit Lions. Well, that is according to CBS Sports that recently posted the results of an advanced computer simulation that has the Motor City posting a far better record than they did in 2018. According to oddsshark.com, the Lions are projected to have just seven wins, with a line under 7 at -110 this upcoming season.
Projections. Simulations. Odds. What does it really mean? Someone, somewhere, has taken a look at every team and decided their educated guess at a final outcome. It's all conjecture until they actually step foot on the field to play the games.
What this also tells us, is that these oddsmakers and simulators like the moves the Lions have made this offseason. Of course, they like some moves more than others. By many accounts, the team crushed free agency by making early splashes to dry up their needs at vital positions. Pass rusher Trey Flowers should spark some excitement.
But, in the draft, the team has taken some heat for their selections on Day Two. Day One and Day Three appear to make up for it with blue chip and blue-collar tight end T.J. Hockenson and a steal of a selection in fifth-round defensive back Amani Oruwariye. What does it all add up to? Wins according to an article that recently appeared on cbssports.com.
""We can tell you the model says the Detroit Lions go well over their total of 6.5 … If [Kerryon Johnson] can play like a true No. 1 back, that should take pressure off Matthew Stafford and the passing game and help Detroit rack up enough victories to sail past its projected win total in 2019.""
The story goes on to say how disappointing the 2018 campaign was for the debut of head coach Matt Patricia. It also touches on the balance brought to the offense by running back Kerryon Johnson. Taking that a step further, the addition of Hockenson to an offense that struggled mightily at times last season will only increase that balance.
While a running game was an important piece to fix, it came with the disappearance of the passing game due to a key trade and injuries. Having starting wide receivers Marvin Jones and Kenny Golladay lining up with Hockenson in tight and Johnson in the backfield give quarterback Matthew Stafford the weapons and balance he was missing last season.
The focus is on the offense to produce as the defense was already doing their part toward the end of 2018. Substituting Flowers for free agent defensive end Ziggy Ansah is an upgrade due to system knowledge and availability. You can be a great player, but you can't have an impact if you're not on the field. It's sad to see Ansah fade and leave, but it is what it is.
Adding more system players to the defense should only help it improve even further. The second round shocker of a pick in linebacker Jahlani Tavai is a player that fits Patricia's defense, much like other free agent's the team has brought in. When players and positions fit the defense and everyone is firing on all cylinders is when competitive play leads to victories.
So it's predicted that the Detroit Lions will have a better year than last year. And fans are hoping for the same thing. It almost appears destined to happen at this point. I mean, the computer says so. And computers are never be wrong. Right?