Detroit Lions Starters Lose Big in Baltimore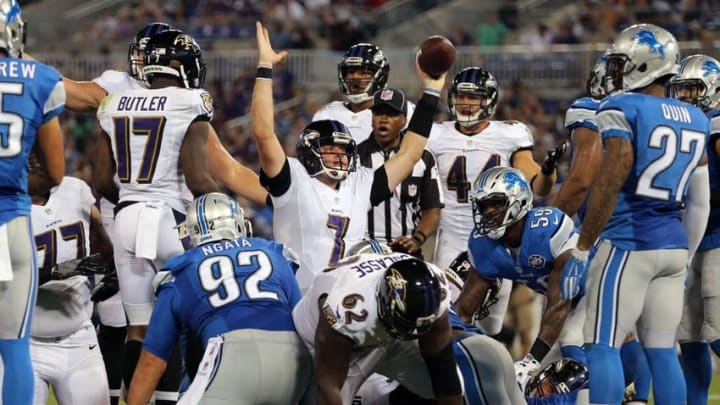 Aug 27, 2016; Baltimore, MD, USA; Baltimore Ravens quarterback Ryan Mallett (7) reacts after diving into the end zone for a touchdown against the Detroit Lions at M&T Bank Stadium. Mandatory Credit: Mitch Stringer-USA TODAY Sports /
Aug 27, 2016; Baltimore, MD, USA; Baltimore Ravens quarterback Ryan Mallett (7) reacts after diving into the end zone for a touchdown against the Detroit Lions at M&T Bank Stadium. Mandatory Credit: Mitch Stringer-USA TODAY Sports /
The third preseason game is the dress rehearsal for NFL teams, including the Detroit Lions. Starters on both sides of the ball played the entire first half, with some also seeing action on the first drives of the third quarter.
When they were done with their soft opening in Baltimore, it was 20-6 Ravens. It wasn't really that close. The Detroit Lions starters did not get the job done.
The first team offense once again struggled. This effort and execution was worse than a week ago at home against Cincinnati.
Matthew Stafford, other than one impressive drive, was off his game. A week after blistering the Bengals with precision throws and outstanding choices, Stafford misfired a few times. He also played it a little too safe, though that could very well be preseason self-preservation.
Stafford's line: 14-for-23, 95 yards, 1 bad INT, 2 sacks and another failure to produce a touchdown in the red zone. His best shot sailed over Marvin Jones' head as if No. 9 was still looking for Calvin Johnson.
About the only bright spot is that the offensive line doesn't deserve much blame for Stafford's struggles. This was Laken Tomlinson's best showing in a Detroit Lions uniform, even with a poor decision on a deserved personal foul penalty.
I've spent the entire summer dumping on Travis Swanson, but he settled in nicely after a spotty first series. The embattled center was notably sharp on the second and third offensive drives.
He looked confident, and that's a great sign. The line calls were fine and he made smart choices in where to direct his help in pass protection. Good job by the starting center.
Starting tackles Riley Reiff and Taylor Decker both had ups and downs. Decker had a couple of really nice seal blocks on runs, including a great kickout block on an explosive from Ameer Abdullah.
Reiff had a nightmare matchup with fifth-round rookie Matt Judon from Grand Valley State.
Reiff did move well in the run game and also scored a few impressive mano-a-mano victories in pass protection. And Judon was legitimately fantastic.
It was nice to see Abdullah get a few carries. Four carries for 16 yards, with the aforementioned 11-yarder being the highlight. He finished that run by lowering his shoulder and bowling over cornerback Jimmy Smith. The shoulder looks fine, and that's all that matters with Ameer.
Theo Riddick provided the biggest highlight with this run (sorry about the ad at the beginning of the link!)
That, and Matt Prater's booming 60-yard field goal, are about the only positives. Of course Prater's bomb came after the Lions faced a 3rd-and-37 thanks to a sack and penalties.
Ah yes, the penalties. There were false starts. There were holds. There were a couple of personal fouls, one on Tomlinson and another on Reiff that was ticky-tack but technically correct as he tried to get Judon off Stafford after a sack.
Penalties are part of team discipline, and on that front the Lions failed miserably. It wasn't just the penalties, however. There were missed assignments, poor tackling, broken containments on defense.
That is a direct reflection on the coaching staff. Jim Caldwell's biggest selling point as head coach is how much the players respect him and the professionalism he demands from them. Those are very legitimate and tangible positives, but they just don't show up between the sidelines often enough.
If you're looking for a silver lining on the black cloud, the starting defensive line looked very good. Haloti Ngata dominated at tackle, and once again Devin Taylor played well to his left flank. I also liked what I saw from Tahir Whitehead before he briefly left the game with an injury. Thankfully he returned and clearly throttled down in the name of self-preservation.
I didn't focus much on the back seven; I'll cover that in one of the subsequent viewings and breakdowns. One man can only take so much negativity in one sitting.