Lions Preseason Opener: 5 Things I Learned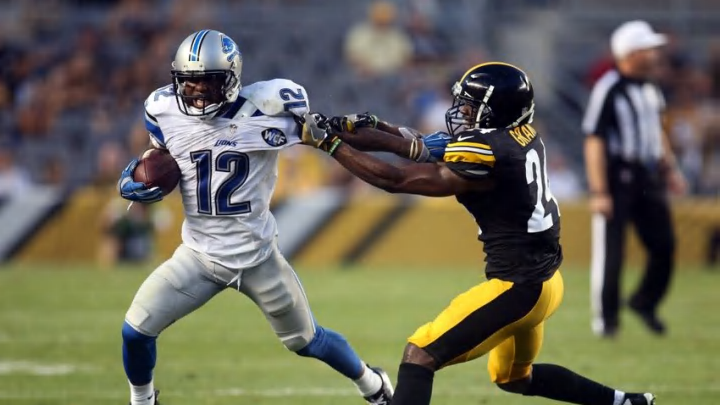 Aug 12, 2016; Pittsburgh, PA, USA; Detroit Lions wide receiver Jeremy Kerley (12) runs after a catch past Pittsburgh Steelers cornerback Dorian Grant (24) during the second quarter at Heinz Field. Mandatory Credit: Charles LeClaire-USA TODAY Sports /
Aug 12, 2016; Pittsburgh, PA, USA; Detroit Lions wide receiver Jeremy Kerley (12) runs after a catch past Pittsburgh Steelers cornerback Dorian Grant (24) during the second quarter at Heinz Field. Mandatory Credit: Charles LeClaire-USA TODAY Sports /
The Detroit Lions capped off a week of joint practices in Pennsylvania by knocking off the Pittsburgh Steelers 30-17 in the preseason opener for both teams.
The Lions played most starters for just a handful of plays, which meant a lot of opportunity to evaluate the reserves. Some shined, others wilted.
Here are five quick things I saw and learned from the Detroit Lions preseason opener:
5. Dwayne Washington is fast.
His 96-yard kickoff return showed both the instant acceleration and the long speed that are rare for a running back of his rippled 6'2", 226 pound frame. The seventh-round rookie hit an extra gear in the open field with his long stride and nary a Steeler could keep up.
He's still facing an uphill battle to make the roster (new projection coming tomorrow!) but the fact Washington proved he could be dynamic on special teams helps his cause considerably.
4. Jake Rudock is Checkdown Charlie.
It was obvious after just a handful of snaps: Rudock reads the coverages from short to long, and if the short option is open he's throwing it.
The lack of even trying to look down the field helps limit mistakes and does a better job of keeping the chains moving, but it also fails to challenge the defense. Rudock has clearly been indoctrinated to believe his best bet is to play it safe, and that's not a bad thing if he ever gets thrust into a meaningful game. But in the preseason it would be nice to see him at least try to air it out. Just once, please.
3. Andre Roberts vs. Jeremy Kerley is impossible to sort
The two veteran free-agent wideouts are ostensibly battling for the same role as No. 4 receiver and at least part-time return specialist. Both had strong moments in the game.
Kerley had an egregious early drop on a deeper route that would have been a huge play, but after that he quietly, confidently converted three third downs with great routes and strong hands away from his body. The ex-Jet also threw a couple of really nice blocks.
Roberts scored a touchdown on a savvy route where he sat in the zone vacated by a corner blitz. He quickly turned the catch up the field and broke a tackle to lunge into the end zone. This showed Roberts has potential to play outside as well as the slot, something Kerley doesn't offer. Yet on another route he didn't exactly fight hard to get back to a ball and he's never been a blocker.
The smart money is that just one of these two makes the roster, though it's possible to see both…or neither. Kerley and Roberts both showed they are still viable NFL receivers, but the rest of the preseason might very well be them proving that for other teams and not the Detroit Lions.
2. The defensive line is better than you think
Granted most of the Pittsburgh players you've heard of didn't play, but this is impressive nonetheless…
The Detroit defensive line was outstanding, consistently dominating the line of scrimmage. Both the second and third team tackles did so too. Devin Taylor embarrassed starting tackle Alejandro Villanueva with a quick inside move. Stefan Charles proved he doesn't stay blocked. Khyri Thornton was all over the field in winning a lot more reps than he lost. A'Shawn Robinson looked solid at his role and demonstrated once again he simply cannot be moved backwards.
This should not come as a surprise, but it's still nice to see the front four absolutely stymie what is arguably the most explosive offense in the NFL today. They didn't get much attention late last year but the defensive front quietly played at a very high level during the 6-2 streak to the finish.
1.Taylor Decker is a rookie
If you were expecting first-round pick Taylor Decker to be Orlando Pace in his first preseason game, you're probably never going to be happy with anything in life.
Decker wasn't bad overall in his debut in the Honolulu Blue and silver, but he proved he was most definitely a rookie as well. James Harrison whipped him for a strip sack one play after drawing a holding penalty.
There is zero shame in getting beat by Harrison, one of the league's most prolific pass rushers for the last decade. Harrison is also a guy with a significant leverage advantage on the 6'8" Decker. The Ohio State rookie hasn't seen anyone like him before. Pittsburgh brought the blitz several times as well from their 3-4 look, again something Decker has rarely seen.
He also made some positive plays. Twice he correctly picked up the proper rusher when the Steelers tried to confuse the line. Decker generated real movement in the run block even though he was battling a significant leverage disadvantage, showing his brute strength.
Keep in mind it's his first NFL appearance. Better days lie ahead for Taylor Decker. Even the great Orlando Pace gave up 5.5 sacks as a rookie and he's now enshrined in Canton.