Jared Goff somehow listed as potential Baker Mayfield fallback option for Seahawks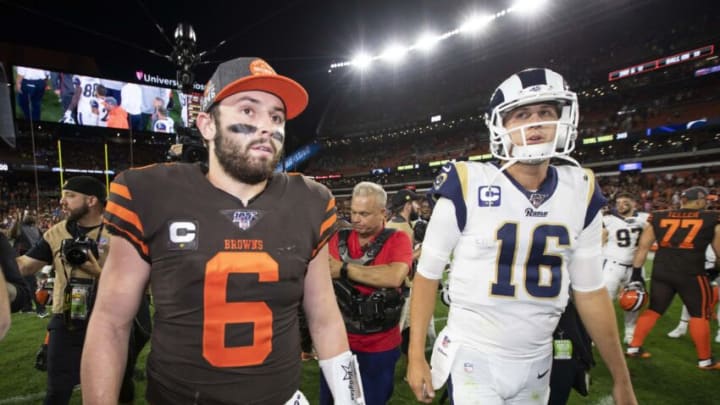 Sep 22, 2019; Cleveland, OH, USA; Cleveland Browns quarterback Baker Mayfield (6) and Los Angeles Rams quarterback Jared Goff (16) talk after the game at FirstEnergy Stadium. The Rams won 20-13. Mandatory Credit: Scott R. Galvin-USA TODAY Sports /
If they fail to get Baker Mayfield, Jared Goff has been listed as a possible fallback option for the Seattle Seahawks.
For the Detroit Lions under center in 2022, it's Jared Goff or bust. For three games last season, there was a glimpse of what "bust" looks like when Tim Boyle started. But there's no going back now, unless someone wants to strain to fit Baker Mayfield or Jimmy Garappolo into the mix.
Speaking of Mayfield, unless the Cleveland Browns pull a surprise move and cut him outright, he seems to have two trade suitors–the Carolina Panthers and the Seattle Seahawks. Depending on the day, there are reports pointing to either or both still being interested, maybe cooling on it because the Browns' won't eat more of Mayfield's salary, etc.
But what if the Seahawks pivoted away from Mayfield in search of someone to usurp Geno Smith and Drew Lock?
Tim Weaver of Seahawks Wire earlier this month listed six potential quarterback trade targets for the Seahawks. Mayfield (No. 2) and Garoppolo (No. 3) are there, along with Gardner Minshew (No. 1), Jordan Love (No. 4), Daniel Jones (No. 5) and…not that there is any real suspense….
Jared Goff, at No. 6.
Jared Goff is a strained Baker Mayfield fallback option for the Seahawks, at best
It feels like Weaver wanted his list to be six instead of five, so he tacked on Goff with note of a coaching tie to make it make better sense.
"Pros: If nothing else, Goff at least KnOwS tHe SyStEm from his time playing with the Los Angeles Rams, who run a very similar offensive scheme to Shane Waldron's. Goff also may be getting better with age, as he managed a respectable 19/8 touchdown to interception ratio last year with the Lions.Cons: Even if he looked better last season he's still Jared Goff – and few fanbases know the flaws in his game better than Seattle's. Goff is essentially a jugs machine – he can throw accurately to one spot on the field, but he has almost no ability to improvise whatsoever, which makes him extremely turnover prone and vulnerable against pressure. In 83 career games in the NFL, Goff has thrown 63 interceptions to go with 51 fumbles. He also has an ugly contract with cap hits over $30 million each of the next three years."
Shane Waldron was on the Rams' coaching staff from 2017-2020, going from tight ends coach to passing game coordinator to passing game coordinator/quarterbacks coach and back to just passing game coordinator. He overlapped with Goff there that entire time, and was Goff's position coach in 2019. So there is that fit and tie there, with Waldron taking influence from the Rams' offense with him to Seattle.
SideLion Report /
Want your voice heard? Join the SideLion Report team!
As Weaver hinted, there is the not-so-small matter of Goff's contract–albeit with palatable outs in 2023 or 2024. Then add the fact the Lions have no one to logically replace him, unless a deal with Seattle brought back Smith or Lock as the new starter.
So even if he was targeted by them, as a clear fallback if they want and don't get Mayfield, there's about a .0001 percent chance Goff is a Seahawk between now and Week 1.