Lions wide receiver DJ Chark contract details reveal structure to drop 2022 cap hit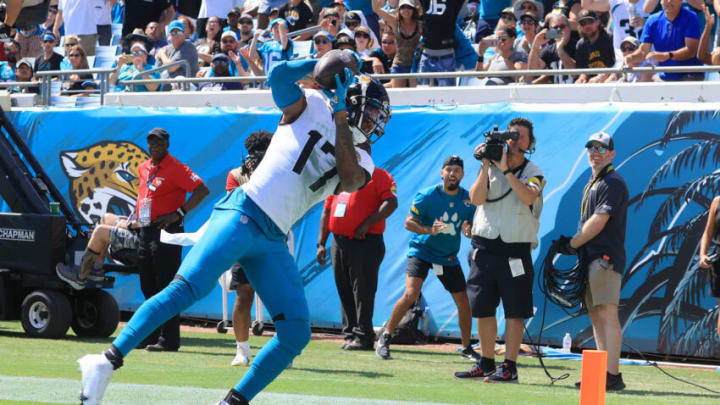 JACKSONVILLE, FLORIDA - SEPTEMBER 26: D.J. Chark #17 of the Jacksonville Jaguars catches the ball for a touchdown during the second quarter in the game against the Arizona Cardinals at TIAA Bank Field on September 26, 2021 in Jacksonville, Florida. (Photo by Sam Greenwood/Getty Images) /
At first glance a one-year deal would seem to make the details fairly cut and dry, but no so much for the one-year deal between the Detroit Lions and DJ Chark.

The Detroit Lions practically kicked off Day 2 of the NFL free agent "tampering period" Tuesday with news of a one-year agreement with wide receiver DJ Chark. Chark has also been their only outside free agent signing thus far.
Chark took a one-year prove-it deal, coming off playing just four games in 2021 for the Jacksonville Jaguars due to a broken ankle. But as the Lions have outlined what they wanted in an X receiver, Chark practically embodies it as a big receiver with downfield speed and red zone ability (however the latter was untapped in Jacksonville).
Reports had Chark's deal worth $10 million fully guaranteed, or "up to" $12 million. All in all, the details seemed likely to be cut and dry, and concise in terms of the cap hit. Well…
DJ Chark contract details with the Lions revealed
According to Over The Cap, Chark will only carry a cap charge of a little over $4 million (base salary plus prorated signing bonus) for 2022. Two void years have been tacked on, to prorate the aforementioned signing bonus over three years ($2.98 each year) rather than keep it on one.
More interestingly, Chark has a cap number of just under $6 million for 2023–which he's not under contract for. It also accelerates the cap charge for the prorated signing bonus onto one more year instead of the original extra two.
This structure is all about making Chark's 2022 cap hit $4 million instead of $10 million, which makes sense in a vacuum to allow the Lions more room to add. But he'll account for more dollar-for-dollar money, even as the cap rises in 2023 and the percentage he takes up is lower, not being on the team in 2023 than he will being on it in 2022.
Of course that could change if the Lions want to keep Chark, and he wants to stay around rather than hit the market again in March 2023. A restructure (or as a practical matter, an extension) will be on the table then, and all the creative accounting to reduce his 2022 cap hit by a little more than half will feel like an awful lot of work that didn't ultimately matter.