Lions season-ending report cards: Defense, special teams, coaching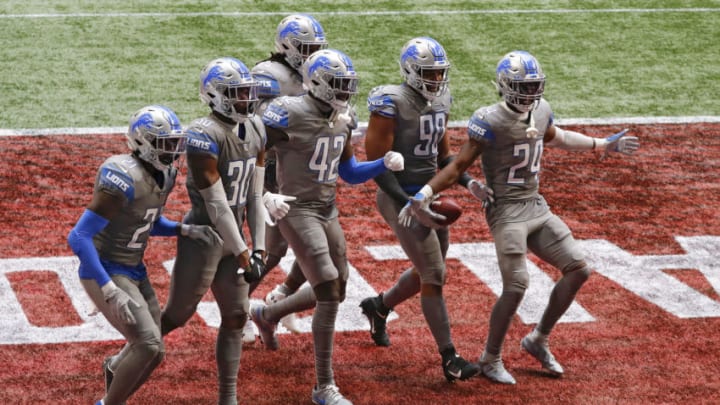 Detroit Lions defense (Photo by Kevin C. Cox/Getty Images) /
Jack Fox, Detroit Lions (Photo by Nic Antaya/Getty Images) /
Special Teams
What a bizarre year for the Lions' third phase. From their steady placekicker missing seemingly routine field goals to their once-promising young coordinator being fired for on-field insubordination to an undrafted kicker nearly setting NFL punting records. Strange.
Matt Prater had a rocky year, to say the least. Once thought of as the least of the Lions' concerns, the veteran placekicker missed seven field goals, his most since his first full NFL season in 2008. He also went just 6/10 from 50-plus yards, once a highly-makeable range for him, and he misfired on three extra points after missing just two over the previous three years combined.
Prater did make a handful of clutch kicks, including game-winning boots against the Arizona Cardinals, Atlanta Falcons, and the Washington Football Team. Still, his shaky year and expiring contract mean he should at least have competition in training camp if he returns for 2021.
Jack Fox set team records for net and gross punting, earning a Pro Bowl nod after spending all of 2019 on the practice squad for the Lions and the Kansas City Chiefs. His net punting average finished just 1.2 yards short of the league record.
Don Muhlbach completed his 17th season of spotless long snapping for the Lions and hit some remarkable milestones along the way. He has now played in 260 NFL games, second all-time among Lions, and 37th in NFL history. That also ranks seventh among active players. Pretty cool.
Jamal Agnew had another strong season despite some ball security issues, helping the Lions rank eighth in kick return average and third in punt return average. He also housed a 74-yard punt return in a Week 16 loss to the Tampa Bay Buccaneers, his fifth return touchdown in four seasons.
The Lions fielded strong coverage units all season and did not surrender a single punt or kick return touchdown. Incredibly, they also blocked three punts in a span of two weeks in the middle of the season. Before that, they hadn't blocked a punt since 2007.
The special teams unit's overall grade is hurt by coordinator Brayden Coombs' abrupt firing after a Week 15 loss against the Tennessee Titans. In that game, he called a fake punt on fourth down in the fourth quarter with the Lions trailing by 14 points; the play didn't work and the Lions ended up surrendering another touchdown. The unsanctioned play spoke to the type of negative culture that the Lions are trying to eliminate from the organization.
Grade: B-