Lions season-ending report cards: Defense, special teams, coaching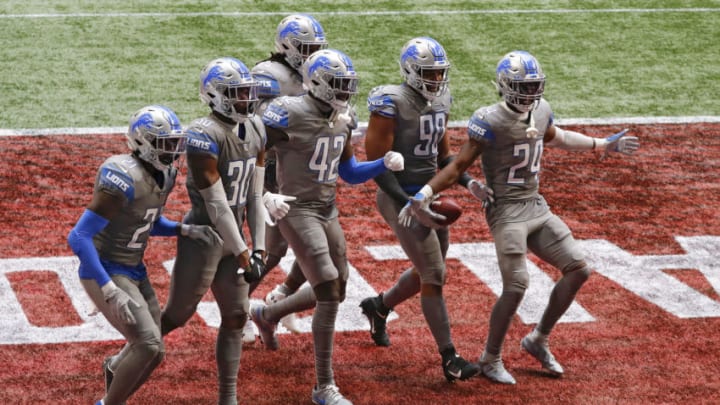 Detroit Lions defense (Photo by Kevin C. Cox/Getty Images) /
Romeo Okwara, Detroit Lions (Photo by Jonathan Daniel/Getty Images) /
SideLion Report hands out report cards to the Detroit Lions' defense, special teams, and coaches
The further away we get from it, the easier it has become to bury the nightmarish memories of the 2008 Detroit Lions' 0-16 season. This year's defense, however, was bad enough to surpass several team records set by that group and was largely responsible for a disappointing 5-11 campaign.
The defensive roster was littered with underperforming starters, injured veterans, mismatched pieces in a dated scheme, and young players asked to do too much. They were too slow at key positions, and they just didn't make enough plays or give their competent offense enough support.
So how does each position group grade out at the end of the year? Here, we distribute evaluations to each position group on defense, as well as special teams and the coaches and management…
Defensive Line
Generating consistent pressure on the quarterback has been a major problem for the Lions' defense for the last several seasons. This year, their defensive line added inept run stopping to their deficiencies, resulting in a dysfunctional, disjointed and ineffective unit that was a major factor in their overall struggles.
Under dismissed head coach Matt Patricia, the Lions relied on a "multiple" defensive front, which aimed to adapt its alignment from odd to even sets depending on the opposing offensive formation. Generally, they favored gap-control methods over upfield attacks. Even with hand-picked members to fill out the ranks, it never went as planned.
In the middle, it was probably unrealistic to expect the Lions to get too much disruption from the group they trotted out each week. Still, nose tackle Danny Shelton and free-agent signee Nick Williams had forgettable seasons.
Williams in particular was a huge disappointment; coming off of a breakout season with the Chicago Bears, he managed just a single sack after six the year before. $6 million well-spent? Shelton struggled as well, and he was generally unable to use his massive frame to occupy multiple gaps enough and made few splashy plays.
The depth was negligible too. Rookie sixth-rounder John Penisini played just over half of the Lions' defensive snaps but did little to help plug the leaks up front. He should be around next year but would be better suited to a smaller role.
Da'Shawn Hand's impressive rookie season seems like forever ago. He still can't shake the injury bug, and he has not recorded a sack since week Week 10 of 2018. It might be time to move on.
On the edge, it was a slightly different story, but still a far cry from what was needed. Trey Flowers played in just seven games before being lost for the year with a broken arm, finishing with just a pair of sacks. The Lions had a bad defense with him on the field and were worse with him off of it. They need more from their highest-paid defensive player, but he'll need to adjust to a new defensive coaching staff in 2021.
The only positive out of this group came from Romeo Okwara, whose 10.0 sacks were the most by a Lions player since 2017 and ranked tenth in the league. He was the only Lion capable of generating consistent quarterback pressure, and likely the only defender for whom opposing teams had to gameplan.
An impending free agent, Okwara may have priced himself out of the Lions salary range for 2021. His strong play is the only thing preventing a failing grade for this group.
Veteran Everson Griffen chipped in 3.5 sacks in seven contests after being acquired from the Dallas Cowboys in a trade. He couldn't help the Lions much on the ground though; their surrendered rushing yardage went up by almost nine yards per game after he joined the team.
Austin Bryant and rookie Julian Okwara both spent more time in the trainer's room than they did on the field, though Bryant showed flashes in year two. He blocked a punt in Week 9 and played nearly half of the Lions' defensive snaps over the last quarter of the year. Both need strong offseasons in order to prove their worth to the team's new decision-makers.
Grade: C-