Did Detroit Lions defense improve enough for 2020?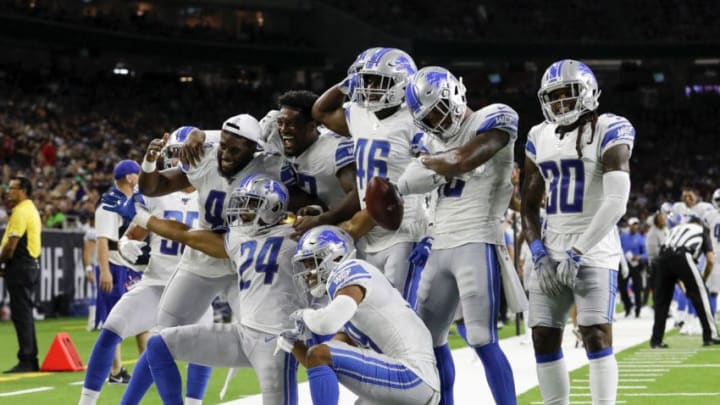 Detroit Lions (Photo by Tim Warner/Getty Images) /
Detroit Lions (Photo by Leon Halip/Getty Images) /
Wrap-up
Overall, we think that the Detroit Lions defense is still in a transition of fully converting to the Patriots style that Matt Patricia has come from. We would estimate that in one to two years the entire defense will be exactly what Patricia wants. Will this current incarnation of the defense allow Patricia and Quinn to keep their jobs?
The secondary is definitely coming around. Draft picks, signings, and pick-ups have improved the talent and depth at the three safety positions, and the three cornerback spots that the Lions employ. There are young playmakers behind the veterans.
The linebackers have improved some but still lack the quality that has allowed the Patriots to win multiple championships. Likewise, the defensive line is also making progress but both of these units lack the quality in their starters and quality reserves that would allow them to be an elite defense.
The real hope for Detroit Lions fans is that they can field a decent defense and that our starters will be reasonably healthy. If those things happen, the Detroit Lions defense doesn't have to be great for them to win games. The offense is going to have the onus of carrying more than their share if they're going to win games.
Stafford, veteran weapons, veteran linemen, added depth at key spots, recent draft picks at skilled positions, all say that the offense could be very good. The defense just can't allow itself to be a sieve and lose games like it did in 2019. A single stop against the Kansas City Chiefs wins that game, for example.
The Detroit Lions improvements will be tested to see if they've outpaced their division rivals in getting better. The offense has made strides to take a step forward and the defense has undoubtedly gotten better in spots. We will see if they've gotten better in enough spots to accumulate more wins than the injury-plagued 2019 season and for all of our sakes, we hope so.