Detroit Lions 2020 NFL schedule release: What stands out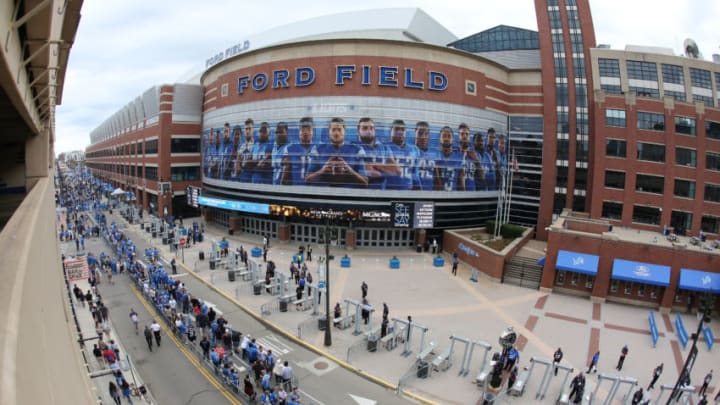 Ford Field, Detroit Lions (Photo by Rey Del Rio/Getty Images) /
As the Detroit Lions enter a pivotal year, and with the NFL's release of the 2020 season schedule Thursday night, we now know their path to redemption.
It's been a difficult two-year run for the Detroit Lions under general manager Bob Quinn and head coach Matt Patricia. This duo has posted a disappointing 3-12-1 record in 2019 after finishing the previous season at 6-10.
With a mandate from owner Martha Firestone Ford to make the Lions a playoff contender this upcoming season, the path to redemption for both Quinn and Patricia is forged in the upcoming regular-season schedule. The NFL revealed that path for Detroit on Thursday night.
Here's the Lions' 2020 regular season schedule courtesy of the team's official website, DetroitLions.com. (All times ET)
Week 1: Chicago Bears at Detroit Lions – Sept. 13 · 1:00 PM
Week 2: Detroit Lions at Green Bay Packers – Sept. 20 · 1:00 PM
Week 3: Detroit Lions at Arizona Cardinals – Sept. 27 · 4:25 PM
Week 4: New Orleans Saints at Detroit Lions – Oct. 4 · 1:00 PM
Week 5: Bye Week
Week 6: Detroit Lions at Jacksonville Jaguars – Oct. 18 · 1:00 PM
Week 7: Detroit Lions at Atlanta Falcons – Oct. 25 · 1:00 PM
Week 8: Indianapolis Colts at Detroit Lions – Nov. 1 · 1:00 PM
Week 9: Detroit Lions at Minnesota Vikings – Nov. 8 · 1:00 PM
Week 10: Washington Redskins at Detroit Lions – Nov. 15 · 1:00 PM
Week 11: Detroit Lions at Carolina Panthers – Nov. 22 · 1:00 PM
Week 12: Houston Texans at Detroit Lions – Nov. 26 · 12:30 PM (Thanksgiving)
Week 13: Detroit Lions at Chicago Bears – Dec. 6 · 1:00 PM
Week 14: Green Bay Packers at Detroit Lions – Dec. 13 · 1:00 PM
Week:15: Detroit Lions at Tennessee Titans – TBD
Week 16: Tampa Bay Buccaneers at Detroit Lions – TBD
Week 17: Minnesota Vikings at Detroit Lions – Jan. 3 · 1:00 PM
What Stands Out
The Lions will open the regular season in Ford Field against a Bears' team who could be led by a Super Bowl-winning quarterback. Chicago traded a fourth-rounder to the Jacksonville Jaguars for Nick Foles in March.
There will apparently be an open competition between Foles and Mitch Trubisky this summer. But the fact the Bears elected to not pick up Trubisky's fifth-year option as a former second overall pick in the 2017 NFL Draft is a bad sign.
The Lions opened last season on the road against the Cardinals. That game ended in a disappointing tie. Now, Detroit will travel back to Arizona in Week Three to once again face quarterback Kyler Murray … and his newest weapon, wide receiver DeAndre Hopkins.
Week 10 will be a battle of two top defensive picks as Washington's No. 2 overall selection, Ohio State defensive end Chase Young, will reunite  with his former Buckeye teammate and Lions' rookie cornerback Jeff Okudah, the third overall pick in last month's draft.
Finally, Lions' fans should get a chance to see quarterback Tom Brady and tight end Rob Gronkowski with their new team, the Buccaneers, as they're set to play at Ford Field in Week 16.
Out of the 13 above opponents scheduled to face off against the Detroit Lions this upcoming season, seven of them posted a record of 7-9 or worse in 2019. These 13 opponents had a combined record of 103-104-1 last season, which is a winning percentage of 49.76.