If the Detroit Lions draft a receiver first, N'Keal Harry or D.K. Metcalf?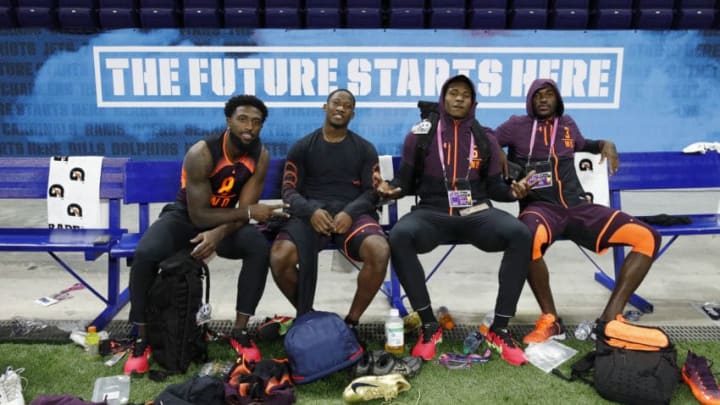 INDIANAPOLIS, IN - MARCH 02: Wide receivers (from left) Parris Campbell and Terry McLaurin of Ohio State, Emmanuel Butler of Northern Arizona and Tyre Brady of Marshall look on during day three of the NFL Combine at Lucas Oil Stadium on March 2, 2019 in Indianapolis, Indiana. (Photo by Joe Robbins/Getty Images) /
Photo by Gregory Shamus/Getty Images /
If the Detroit Lions had to draft a wide receiver this year in Round One, would you prefer N'Keal Harry or D.K. Metcalf? We'll break it down.
Later this month is the NFL Draft, the best chance to select talent for the 32 professional football teams, including the Detroit Lions. All kinds of players are being considered by analysts and pundits, alike. If you had to draft a wide receiver, though, would you pick former Sun Devil, N'Keal Harry, or former Rebel, D.K. Metcalf? That's the subject for this episode of Kick In the Crotch Weekly.
As pro days and the combine have unfolded, two receivers have separated themselves from the pack (pun intended) of hopefuls as future number one options. N'Keal Harry is a 21-year-old receiver from Arizona State and our other subject, D.K. Metcalf, is a 21-year-old receiver from the University of Mississippi, A.K.A. Ole Miss. Both players grew up near the universities that they committed to and have the prototype frame that NFL scouts love.
So, what exactly makes these two men better prospects than the other hundred receivers who'd like to be the first wideout taken? Both measured in at around 6-3 and 225 pounds, which is elite bulk and height for the position. Both men have overall elite measurable talent when taking into account their agility, speed, and leaping ability, too.
We'll compare the two prospects and make a decision about who the Detroit Lions would draft between the two if they had to in Round One. admittedly, a top ten pick used on a wide receiver would be a considerable investment by Bob Quinn, the general manager. Perhaps he isn't considering a receiver at pick eight, perhaps he should, but this is just a hypothetical situation.