Is the Detroit Lions' coaching staff to blame for loss?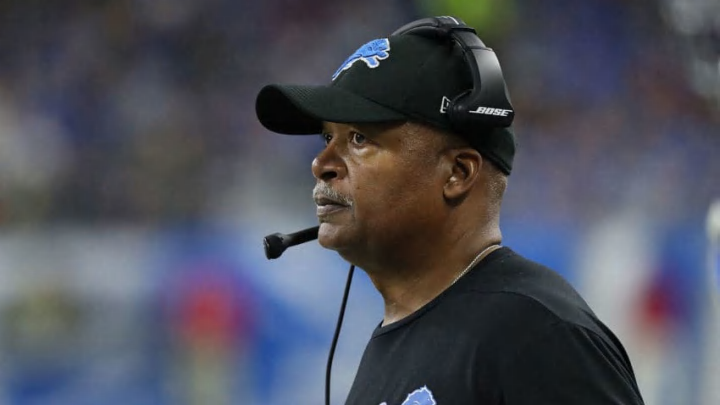 DETROIT, MI - OCTOBER 29: Head coach Jim Caldwell of the Detroit Lions watches his team against the Pittsburgh Steelers during the first half at Ford Field on October 29, 2017 in Detroit, Michigan. (Photo by Leon Halip/Getty Images) /
Are poor coaching decisions the biggest reason the Detroit Lions lost to the Pittsburgh Steelers by five points on Sunday night?
We've all heard the same excuses following a devastating loss in the NFL. Who is to blame more following a defeat, the coaches or the players?
The coaches create the gameplan and call the plays. The players attempt to execute said plays. So when a team loses, it's sometimes difficult to correctly assign blame? It's kind of like the chicken or the egg conundrum.
Following the Detroit Lions loss to the Pittsburgh Steelers Sunday night, it's clear that the Lions' players failed to execute on many of their plays.
Dropped passes in the end zone, going 2-of-12 on third downs, the lack of any running game and their secondary allowing big plays by the Steelers all attributed to Detroit's five-point loss.
But more than all of those plays, the Lions' decision to go for it on fourth down twice in the redzone, and their subsequent failure to convert either of them, will likely be the most controversial aspects of the game. And that falls squarely on the shoulders of the Lions' coaching staff.
""Five trips to the red zone, including three trips inside the 5-yard line, and you can't dial up a single play that gets you into the end zone? That's bad," wrote Justin Rogers for The Detroit News. "The decision to go for it on 4th-and-1, down two, wasn't a terrible choice, but to run it up the gut, after you've shown the inability to do so, led to a deserved result.""
Let's not forget, that this Lions' coaching staff also had an extra week to prepare for this primetime matchup, as the team was coming off their bye week.
After suffering three losses in a row, this Lions' team is suddenly in a free fall. Upcoming games against the Aaron Rodgers-less Green Bay Packers and the winless Cleveland Browns should allow the Lions to course correct.
Next: Detroit Lions couldn't get it done on third down
Yet, one has to wonder if this Detroit Lions' coaching staff is calling plays for the roster they actually have, or the one they wish they had.