Detroit Lions: Gameplan for beating the Carolina Panthers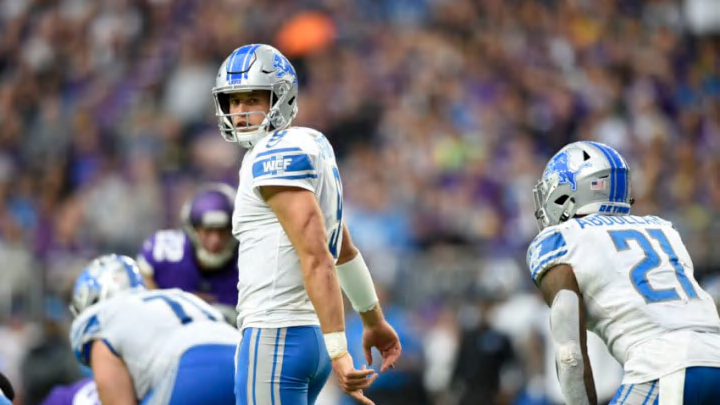 MINNEAPOLIS, MN - OCTOBER 1: Matthew Stafford /
Don't be fooled, this next opponent will be a good test for the Detroit Lions. Both teams looked better in Week 4 than the week prior.
With the first quarter of the season in the books, the Detroit Lions are looking hot. So are the Carolina Panthers.
Two under the radar playoff contenders will look to stake their claims and prove they are for real.
Corral Superman
2015 was much kinder to Carolina Panthers' quarterback Cam Newton than the next. Make no mistake about it, he can unleash hell. This season, he if off to a solid start.
To carry out such a task requires the defensive line to stay in their rushing lanes. Even the slightest crease that can be provided and Cam is off to pay dirt or picking up real estate. Sacks are ideal but those are hard to come by.
The best bet for the Lions would be to play patient and not overpursue. Read-option will get you from time to time. Newton is playing pretty well, especially running the ball.
Get your eyes glued to hard to the former NFL MVP, and his running backs and receivers become open for big plays. Oddly enough, forcing him to throw might be the safest bet for Detroit to win on defense.
Play with tight coverage
As alluded to before, Newton struggles as a pocket passer more times than not. Making him rely on his arm over his legs puts the Panthers at a disadvantage somewhat. His throwing ability is more sporadic and less reliable than his scrambling.
Throwing on the run seems to be his cup of tea, so keeping him in the pocket is critical. If he escapes the pocket, it might spell doom for the Lions.
Higher efficiency on offense
Surprisingly, the offense of Detroit has underperformed. In many occasions, the special teams and/or defense will bail them out, but that narrative could be tough to follow against Carolina. Their defense is stingy and the offense is potent when they play to their capabilities.
The running game was looking good for the Lions but the passing game was off. A big part of why was due to the six sacks they gave up last week.
If that means quicker passes, better protection, whatever, the play calling has to get better. Balance will be key.
Not every game will the opponents give the game away with turnovers. Scoring more than 14 points would be nice, don't you think?
Next: Glover Quin's elite play continues to go under the radar
Granted the Lions played arguably the best defense in the Minnesota Vikings. Expect a close outcome in what should be another exciting NFC North vs. NFC South showdown.