Detroit Lions Draft: March 30 Pro Day Watch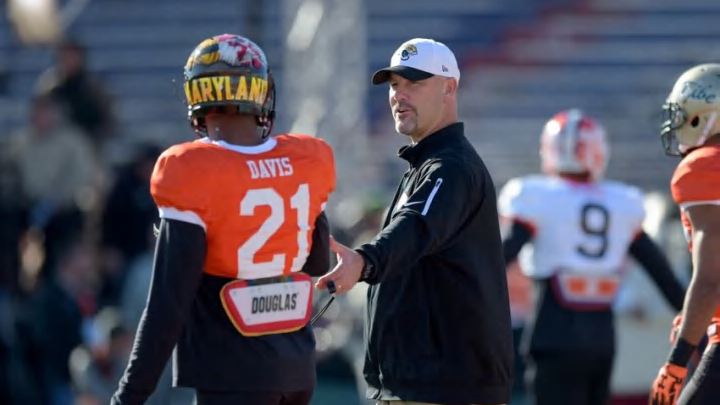 Jan 28, 2016; Mobile, AL, USA; South squad head coach Gus Bradley of the Jacksonville Jaguars talks with safety Sean Davis of Maryland (21) following a play during Senior Bowl practice at Ladd-Peebles Stadium. Mandatory Credit: Glenn Andrews-USA TODAY Sports /
Jan 28, 2016; Mobile, AL, USA; South squad head coach Gus Bradley of the Jacksonville Jaguars talks with safety Sean Davis of Maryland (21) following a play during Senior Bowl practice at Ladd-Peebles Stadium. Mandatory Credit: Glenn Andrews-USA TODAY Sports /
March 30 brings several pro days which should pique the Detroit Lions draft interest. After a fairly light day on Tuesday, expect Lions coaches and scouts at most of those on the slate for today. 
Maryland
The top Terrapin draw is defensive back Sean Davis, a well-built thumper who has played both cornerback and safety. His NFL.com draft bio has a great, and truthful, opening line:
"Davis speaks English, French, Chinese … and the language of pain."
During Senior Bowl week, Davis clearly got pegged by NFL teams as a safety despite his insistence he can play corner. The Baltimore native turned in an excellent Combine, where the Lions met with him. He's not unlike Louis Delmas as a safety, an all-or-nothing player who makes many plays you don't think he could but misses a few easy ones too.
Defensive tackle Quinton Jefferson could draw attention from the Lions. He's a bit undersized at 291 pounds and didn't show much during Senior Bowl week, which I attended.
Edge rusher Yannick Ngakoue is more of a 3-4 OLB prospect at 6'2" and 252 pounds, and he's strictly a pass rusher. The Lions do have a need for more depth at that spot, but at this point Ngakoue would be redundant with Kyle Van Noy as a middle-round pick.
Running back Brandon Ross is a dual-threat back with impressive acceleration and polished receiving skills. The Lions, including freshly hired Director of Player Personnel Kyle O'Brien, met with the 5'10", 205-pound rusher during Shrine Game week. He's a late-round prospect.
Miami (Fla.)
The Hurricanes don't have their typical bounty of prospects, but there are a handful of later-round players the Lions might want to consider for the den.
Cornerback Artie Burns is the top draw, a leggy outside corner who aggressively plays the ball in the air. He should run well, looking to top his 4.46 40-yard dash time at the Combine. Burns is widely projected as a second or third round pick, though is also correctly viewed as a developmental project as he has an inordinate amount of plays where he appeared lost in space.
Artie Burns, Mandatory Credit: Steve Mitchell-USA TODAY Sports /
Safety Deon Bush starred during Shrine Game week after largely underwhelming in his senior season. His pursuit angles were often terrible for the Hurricanes. Bush fits the profile of a coverage safety. He needs to run in the 4.5 range and it would also help him to top 200 pounds on his somewhat slender 6'1" frame. He was a fan favorite in Miami and quickly emerged as a strong leader at the Shrine Game.
A pair of wideouts, Rashawn Scott and Herb Waters, will hope to impress with their speed and attract attention as potential camp invites. Defensive tackle Ufomba Kalamu brings a lot of length and power at 6'5" and 295 pounds and was a surprising Combine invite. He never accomplished much on the field but guys his size don't grow on trees.
Linebacker Raphael Kirby couldn't work out at the Combine, still recovering from a torn ACL last fall. If he can do anything on the field, it's a plus for a guy who racked up tackles over the years.
SMU
Very slim pickings in Dallas for the Mustangs. Supersized safety Shakiel Randolph, all 6'3" and 220 pounds of him, is the only real drawing card. He won't be drafted and made just 29 tackles as a senior. Center Taylor Lasecki made preseason watch lists.
South Carolina
Tight end Jerell Adams is one of the better receivers at his position and could draw interest from Detroit in the third or fourth rounds. A strong pro day, one which reinforces a great Combine where he ran 4.64 and finished at or near the top of every athletic metric for tight ends, likely elevates him above that range. Even though his production (28 catches) doesn't look like much, the Gamecocks offense was a mess last fall between the unexpected coaching change and endemic QB issues.
Wideout Pharoh Cooper also suffered in the down year. He compares to Randall Cobb when the current Packers receiver came out of Kentucky, a shifty, agile slot receiver who also provides a real threat on jet sweeps and even Wildcat formations. He's not as top-end fast or as slippery in the open field as Cobb. It's important for Cooper to run fast but also impress with his agility and explosion drills, things like the short shuttle and vertical leap. The Lions seem set at slot receiver with Golden Tate, Jeremy Kerley and T.J. Jones, but you never know…
Defensive tackle Gerald Dixon Jr. earned a Shrine Game berth for his immovable object style. He's got the size and anchor strength but doesn't move well and struggled to get off blocks.
Last season the Lions drafted tackle Corey Robinson. This year his successor, Brandon Shell, is a similar late-round prospect. Shell isn't as long as Robinson but sustains his blocks better. He might be a better NFL guard. Safety T.J. Gurley and running back Brandon Wilds are hoping to spark more interest.
South Carolina State
Javon Hargrave is likely the best player you've never seen. The bubble-butted defensive tackle is in my personal top 30 overall thanks to his relentless drive, exceptional base power and explosive athleticism for a 305-pound guy. His style is similar to Nick Fairley but Hargrave plays with better field awareness and positional discipline. After dominating the Shrine Game practices, Hargrave proved he could more than just hang with the big boys by lighting up the Senior Bowl practices as well. He's a potential star and the Lions would be very wise to consider him in the second round, if he falls that far.
Surprisingly, Hargrave isn't the only Bulldog who figures to be drafted. Impressive tight end Temarrick Hemingway should hear his name called late in the draft for his receiving skills. He hopes to show agility and strong hands during the pro day. At 244 pounds, he's not much of an inline presence so his work as a receiver is paramount.
Southern Utah
The Thunderbirds have three legit NFL prospects, not bad for an FCS school. The headliner is safety Miles Killebrew, a player the Lions met with both at the Senior Bowl and Combine already. A hulking presence at 6'2" and a broad-shouldered 220 pounds, Killebrew is ideally suited to play the hybrid LB/S role that is increasingly en vogue. He's a sledgehammer against the run who can both hit hard and finish the tackle. Pay attention to his agility scores, as he showed some tightness during Senior Bowl practices. He's a definite candidate for the Lions in the third round.
James Cowser, Mandatory Credit: Trevor Ruszkowski-USA TODAY Sports /
Another to watch is edge rusher James Cowser. Aside from having great hair, he consistently flashed strong and very active hands to keep blockers at bay. His explosion metrics are the difference between the fourth and seventh round, so it's a big day for the 6'3", 244 outside linebacker.
Big corner LeShaun Sims also hopes to impress. He has the length the Lions have typically coveted at 6', though he didn't necessarily play "big". Sims might need to add some strength and transition to a coverage safety to stick in the NFL.
Tennessee
The Volunteers might not have anyone get drafted. Enigmatic wideout Marquez North offers a lot of potential at 6'3" and a solid 225 pounds, but he's missed time every season with a litany of injuries. He caught just 6 passes in parts of seven games as a senior. Linebacker Curt Maggitt also barely played in 2015 after suffering a hip injury. He projects as a pass rush specialist if he proves he's healthy.