With the Detroit Lions and the rest of the NFL trimming their rosters down to 53 players yesterday it is a natural time for analysis from every direction.
MLive.com's Kyle Meinke wrote that the construction of the Lions roster suggests a "win now" approach. It turns out that idea is quantifiable.
Philly.com's Jimmy Kempski compiled the data to compare the average age of each NFL roster. The league's oldest? The Detroit Lions, take a look: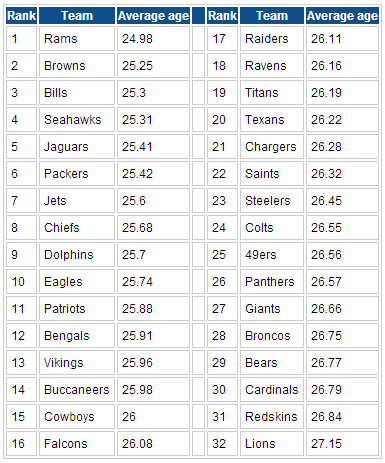 One might be inclined to blame 38-year old David Akers for skewing the results but that isn't correct. As just one player on a roster of 53 players, Akers accounts for just 1/53. Take him out and the average drops to 26.94, still not enough to avoid the "oldest team in the NFL" label.
Akers certainly helps pull the Lions average to the high side but the Lions turned to a number of veterans to fill holes including Rashean Mathis, Rocky McIntosh and Israel Idonije over younger players like Chris Greenwood, Chris White and Ronnell Lewis.
Tags: Detroit Lions