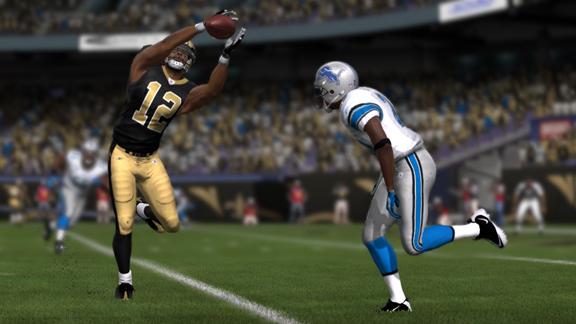 ESPN's weekly game simulations in Madden 12 continues into the playoffs. While they like the Bengals to pull and upset, the sim isn't as optimistic with the Lions. Here is the would-be recap:
Drew Brees threw for 348 yards and four touchdowns, but none was more important than his nine-yard scoring strike to Marques Colston late in the 4th quarter, as the Saints break a 31-31 tie to score the final 10 and win the game, 41-31. Calvin Johnson had 10 receptions for 164 yards and one touchdown in the Lions' loss.
And then there's this:
http://www.youtube.com/watch?v=Q3Qd_WYe0IM&feature=player_embedded
Two questions come to mind:
1. EA Sports still releases Madden for PS2?
2. Who would sit and watch an hour of CPU vs. CPU video game football?
To answer question two, not me. Skipping to the end shows that the Saints win 23-0. I think you'll find the same thing if you don't skip to the end and sit through the whole thing. Try it and let me know.
Like what you see? Give SideLion Report a "like" on facebook, become a follower on twitter, or grab our RSS feed.
Tags: Detroit Lions Drew Brees Madden '12 Matthew Stafford New Orleans Saints Simulation Wild Card