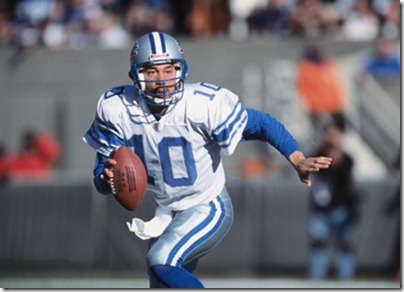 In securing their first playoff berth since 1999, it would be easy to say the Lions have simply gotten back to the point where they were before the arrival of Matt Millen. That 1999 team wasn't a Super Bowl contender and the 2011 version likely isn't either but that doesn't mean the two should be put on equal standing.
The fading memory brought on by the passing of time makes it a natural tendency to overrate the teams of old, particularly after a decade of futility. In truth, "playoffs" then and "playoffs" now have entirely different meanings, for the present and the future.
The 1999 Lions were an average team playing in the weaker conference. The defense was average (ranked 18th of 31), the offense was average (ranked 21st of 31), they allowed just one more point than they score themselves and finished with as many wins as losses. Similarly, a glance at the roster reveals a host of players that were productive but nothing to get excited about.
Charlie Batch has had enough staying power to put together a long career as a backup. Germane Crowell had a career year in 1999 but was later derailed by injury, Johnnie Morton was solid but never a Pro Bowler. If it wasn't for Robert Porcher's 15 sack season there might not have been anything remarkable to point to statistically.
Despite backing in by losing their final four games, the 1999 team deserves credit for making the playoffs after dealing with the sudden retirement of Barry Sanders but losing a franchise player isn't a recipe for success in the short or long term. And there is the biggest problem: there wasn't anything to get excited about for the future. The Lions followed with another mediocre year that left them on the outside of the playoffs bring on a complete blow up of the organization including the hiring of Matt Millen. The results were obviously catastrophic but something drastic had to be done.
The 2011 Lions have the franchise back in the playoffs with a legitimate team in the present with a bright future. Calvin Johnson is in the conversation as the best wide receiver in the league and Matthew Stafford looks like the franchise quarterback the Lions have spent decades trying to find. The defense gives up their fair share of yards but they are third best in the league in forcing turnovers while the offense is ranked in the top ten in most categories. Simply put, this team has things they do well.
At best, the Lions were in a holding pattern when they last made the playoffs. This time around the team will ride into the playoffs with the organization heading in the right direction.
As a bonus, here is the NFL Films video yearbook for the 1999 Lions:
Like what you see? Give SideLion Report a "like" on facebook, become a follower on twitter, or grab our RSS feed.
Tags: 1999 Season 2011 Season Charlie Batch Detroit Lions Germane Crowell Robert Porcher