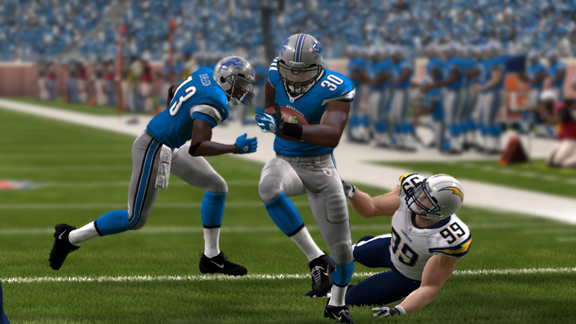 All the Lions need to do to clinch their first playoff berth since 1999 is win on Saturday. It remains to be seen if they will actually do it, but if a simulation of the game in Madden 12 is correct, they will.
The simulation leads to the following virtual recap:
The Lions thrilling comeback over the Raiders last week was one of the most unbelievable and shocking games of the season so far. How do they top it? How about by beating "Team December," the San Diego Chargers, thanks to 14 second-half points, capped by a 30-yard touchdown by Megatron. That's right, the Lions do it again, and just like last week, when the game mattered most, the opposing secondary failed to cover Calvin Johnson deep. You'd think they'd learn by now.
Accuscore is less optimistic. Their 10,000 simulations favor the Chargers by a 56% to 43% split with an average score two points in the Chargers' favor.
The news is even worse when considering the opinion of human beings. Of the eight personal "panel of experts" that picks games each week on ESPN.com, only Chris Mortensen has faith in the Lions to win on Saturday. However, the general population apparently likes the Lions based on the predictions entered into ESPN's "Pigskin Pick 'Em".
Like what you see? Give SideLion Report a "like" on facebook, become a follower on twitter, or grab our RSS feed.
Tags: Accuscore Detroit Lions Madden '12 Predictions San Diego Chargers Simulations