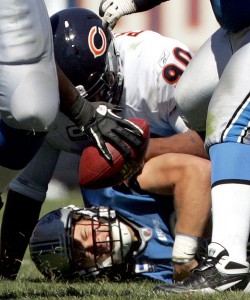 A recent poll on this site asked a very simple question: do you still worry about Matthew Stafford's health?
Stafford has expressed confidence in his surgically repaired shoulder and doctors have indicated that there are no concerns that make him any more prone to injury than any other player. Yet, a majority of poll participants responded that they do still worry about Stafford's health.
Through four weeks, the Lions have faced three players in the top five for sacks. Jared Allen ranks second, DeMarcus Ware is third and Tamba Hali is tied for fifth. All three players are premier pass rushers but only Allen has sacked Stafford, whose health is of utmost importance.
That alone should inspire confidence in Stafford's ability to stay healthy but I can't help but think that Monday's game against the Bears represents an important step in the process of removing doubt from fans' minds about Stafford's health from our minds altogether. It was Julius Peppers who drove Stafford and his shoulder into the Soldier Field turf and set the health doubt into motion.
If facing other elite pass rushers and emerging clean hasn't been enough to quell the remaining fears, will doing the same against Peppers help the cause? It might.
Like what you see? Give SideLion Report a "like" on facebook, become a follower on twitter, or grab our RSS feed.
Tags: Chicago Bears Detroit Lions Julius Peppers Matthew Stafford