The questions Matthew Stafford most needs to answer won't come up until the regular season but he has done a nice job of making sure additional questions don't need to be asked during the preseason. Through three preseason games, Stafford has combined to complete 24 of 31 passes for 356 yards, five touchdowns and zero interceptions.
Writing Stafford's preseason stats off as a good quarterback doing what he is supposed to do in the preseason is wrong thinking. Just how good has he been? ESPN put out the following graphic on twitter: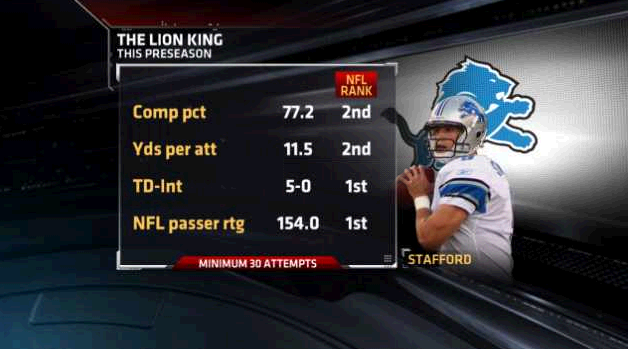 Not bad.
While the rankings show that just about everyone is behind Stafford production-wise, it should be pointed out just how far back Eli Manning is. Evan Silva did the math to compile Eli Manning's preseason stats and they don't look very good at all:
#Giants QB Eli Manning so far in the preseason: 24-of-50 (48%) for 288 yards (5.76 YPA), 0 touchdowns, and two interceptions.
The Giants and the Lions. One team has issues at quarterback. It isn't the Lions.
The Giants are a team the Lions will likely have to contend with if they are to secure a playoff berth. The continuation of the quarterback play we've seen from each team through the preseason would make the Lions' job a lot easier.
Like what you see? Give SideLion Report a "like" on facebook, become a follower on twitter, or grab our RSS feed.
Tags: Detroit Lions Eli Manning Matthew Stafford New York Giants