Hank Williams Jr won't be signing prior to tonight's game between the Detroit Lions and the Cleveland Browns but that doesn't mean it isn't a big game, right? Come on, the game has it's own name (Great Lakes Classic) and traveling trophy!
To the victor go the spoils: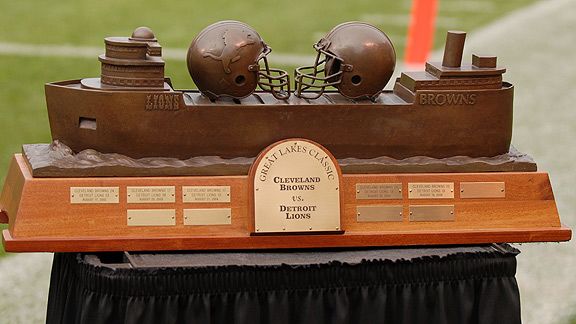 If that isn't enough to convince you of the magnitude of this game, perhaps this will:
Or not.
I hate to make an "overboard" reference so close to a bronzed representation of a great lakes shipping vessel but someone was clearly trying too hard when this concept was conceived. A traveling trophy for the winner of the annual preseason game between the Lions and Browns? These franchises have been the butt of so many jokes without having to bring something like this upon themselves but they did it anyway.
Like what you see? Give SideLion Report a "like" on facebook, become a follower on twitter, or grab our RSS feed.