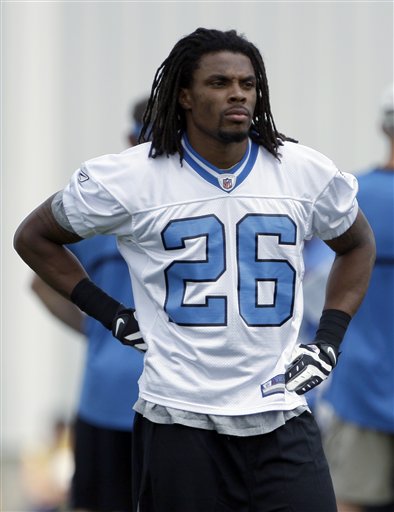 I have long thought that the key to a Lions resurgence would be the addition of a lockdown cornerback. Having watched players like the Jets' Darrelle Revis, Oakland's Nnamdi Asomugha (now a free agent), and Denver's Champ Bailey take away half the field, and then watching what happened to the Lions and their ever-revolving group of cornerbacks, I considered the position to be the greatest need for Detroit.
When Martin Mayhew picked Nick Fairley over Prince Amukamara in the 2011 NFL Draft, despite Detroit's stacked defensive line and glaring need in the secondary, I was forced to reconsider — unlike a certain former Lions GM, I have great trust in Mayhew, his drafting ability, and his plan for putting together a team. Yes, Fairley was the top player on many draft boards, but Amukamara was up there as well, so why draft the defensive tackle?
Take a look again at the names of elite corners I cited — Revis, Asomugha, and Bailey — and how their teams fared in 2010. Only the Jets made the playoffs, and while their pass defense was a lofty sixth in the NFL in yards allowed, it was their stingy rush defense — allowing just 90.9 yards per game, third in the league — that was just as much a hallmark of their success, and it was when that rush defense faltered against Pittsburgh that New York had their season ended in the AFC title game. Oakland's pass defense was even more outstanding than the Jets', finishing second in the league, but a porous rush defense (29th in the NFL) submarined a team with a decent offense (10th in total yardage), and the Raiders finished with an 8-8 record. Denver also had a solid offense (13th in yards), but finished 4-12 and last in the NFL in yards allowed despite the presence of Bailey, mostly due to the league's No. 31 rush defense.
I think you can see where I'm going here — it's quite possible to succeed in the NFL without an outstanding secondary, as long as you boast a front seven that can stop the run. Pittsburgh, last year's AFC champion, was a middle-of-the-pack defense when it came to stopping the pass, but they stopped the run better than any team in the NFL. Your very own Detroit Lions, despite seemingly starting a different back four in every game, finished 16th in the NFL in pass defense, but with the league's No. 24 rushing defense, they couldn't stop their opponents from salting away games on the ground.
I've always looked to the Baltimore Ravens as the standard-bearer for defense in the NFL, and one look at their starting secondary provides a very interesting glimpse into how a successful team can be put together. The Ravens gave up more passing yards than the Lions last season, but managed to give up the third-fewest points in the league because they were built from the inside out. Their secondary consisted of Ed Reed, who was limited to ten games, and then three players — CB Josh Wilson (2007 2nd round pick, traded right before the season by Seattle after middling success), CB Chris Carr (former undrafted FA), and safety Dawan Landry (2006 5th round pick) — who were unheralded at best. It was the front seven, led by studs like DT Haloti Ngata and LBs Ray Lewis and Terrell Suggs, that made the difference for Baltimore, and I can see the Lions eventually having similar success if they follow Baltimore's model.
While he's not Ed Reed, Louis Delmas should be a Pro Bowl safety if he can stay healthy and continue to develop after an injury-plagued 2010. Detroit signed Erik Coleman before the lockout, and he should be a solid counterpart with Delmas while Amari Spievey learns the intricacies of the safety position. At corner, Detroit will likely have to plug-and-play like they did last year with Chris Houston (if he's re-signed), Nathan Vasher, Alphonso Smith, and whoever else steps up. While the situation is not ideal, those guys can win games.
That is, they can win games if given the support of a strong front seven, and that's where Detroit must make a couple moves before they can think about a big playoff push. The defensive line is obviously strong, and DeAndre Levy is a very solid middle linebacker, but the Lions are really hurting for talent at outside linebacker. Keith Bullock's name has been thrown around as a potential pickup, but he's on the wrong side of his prime and probably Keith Bulluck" href="http://sidelionreport.com/2011/06/18/the-detroit-lions-shoud-not-sign-keith-bulluck/" target="_blank">isn't the answer this team is looking for (Detroit doesn't need a Julian Peterson/Larry Foote redux). Where the team turns next is tough to determine with the NFL still at a standstill, at least for now, but it's clear to me that finding outside linebackers who can hold down the fort will make the difference between mere improvement and huge breakout for the Lions in 2011.
Tags: Alphonso Smith Amari Spievey Chris Houston Detroit Lions Erik Coleman Louis Delmas Nnamdi Asomugha Secondary