Despite not being a total soccer nut, I do have it on the brain thanks to last night's Gold Cup match between the US and Canada at Ford Field. It was the first time the United State's Men's National Team (apparently just USMNT for those in the know) played in the Detroit area since they made an appearance at the Pontiac Silverdome during the 1994 World Cup. I remember that match enough to recall the jersey they wore that day. It looked like this: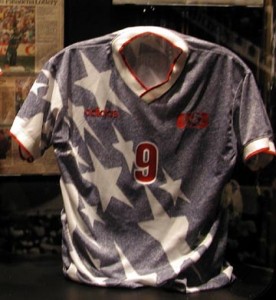 A quintessential jersey of the 90s, if you ask me. Most of the sports fashions of the 90s are best left there which is why I was surprised to come across this:
Yes, that is a special Toledo Mud Hens jersey. For 2011.
At least they will be worn for a good cause. From the Mud Hens website:
The Mud Hens will be wearing special patriotic jerseys on Friday, June 10 as part of Veterans Appreciation Night, presented by Stautzenberger College. Fans can bid on the jerseys, which will be made available in a silent auction during the game. Proceeds benefit Heroes in Action!
Like what you see? Give SideLion Report a "like" on facebook, become a follower on twitter, or grab our RSS feed.
Tags: 1994 World Cup Jersey USMNT