Many teams in the NFL use a zone blocking scheme to open up running lanes. Zone blocking is what is sounds like. Instead of offensive lineman blocking other defensive players, they are blocking zones. The goal of zone blocking is to get constant, positive yardage on every running play. The team wants to eliminate all negative running plays even if that means giving up on the "big plays".
Alex Gibbs, the father of zone blocking:
Screw averages. We want medians. The back might average 7 yards per carry, but how often did he get stuffed and put us in 3rd and 10, causing a turnover.

And we do this by eliminating penetration and running a limited number of plays to perfection.

The ball is snapped and the lineman will advance to the designated zone and block anyone in the zone. If there isn't a defender in the gap, he will advance to the next level of LBs or DBs. In other plays, the line may be asked to perform a double team in the zone. This will almost certainly eliminate penetration from the zone which is another goal of this blocking scheme. In a double team, the two will attack the defender and push him back. Next, out of the two lineman that has the best angle to the next level or player will "slide" or "slip" to it. A successful slip takes intelligence and trust with your teammate.
Here is an illustration: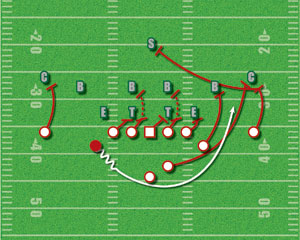 (The two guards have the best angles, so they slide off to the two MLBs)
The offensive linemen in this scheme aren't usually the biggest and strongest. The desired lineman in a zone blocking scheme is fast, athletic, and smart. The linemen need to be smart enough to read the defense, adjust, and work as a whole to make the offense go. If one man screws up, it most likely will ruin the entire play. Like a lineman in a zone blocking scheme, the running back doesn't have to be the strongest or fastest. A good running back in this system needs to have the brains, patience, and vision to see the opening of the gaps. Alex Gibbs used this scheme in Denver and it excelled for many years as they won Super Bowls. Terrell Davis, who wasn't the fastest or strongest, thrived under this system while in Denver. If the RBs have the qualities needed they will rack up constant, positive yardage. These running backs are much different than "home-run hitters" like Barry Sanders or Chris Johnson, who may break one once in a while but have many plays that gain no or negative yards.
If you want more information, here is an excellent post about the scheme.
Tags: Detroit Lions Offseason Education Terrell Davis Zone Blocking