No one would be surprised to see the Lions add a big back to the team in the middle to late rounds of the draft. Such a player was available with a seventh round pick in the recently completed #MockThree twitter mock draft, let's take a look: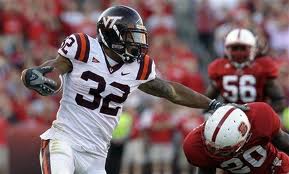 Darren Evans, RB, Virginia Tech
Height: 6'0″
Weight: 227 lbs.
Arm Length: 31 3/4 in.
Hand Size: 9 3/4 in.
40-Yard Dash: 4.58 sec.
NFL.com combine profile overview:
Evans is a tough running back who might lack the speed to make an impact at the next level. He excels between the tackles, as he is a north-south runner who lowers his shoulder and pumps his legs through defenders. He is also a tenacious blocker in pass protection who flashes a strong initial punch. However, he lacks the suddenness to consistently exploit seams or bounce the ball to the outside. He is a very raw pass catcher and is not a weapon in the flat. Evans is very hard-working and could be drafted late for his potential on special teams.
Darren Evans burst on the scene as a redshirt freshman to rush for over 1200 yards for Virginia Tech in 2008. An ACL injury in preseason practice forced him to miss the 2009 season. By the time he returned in 2010 the Virginia Tech backfield had become a crowded place. Ryan Williams, who may be a second round pick in this draft, put together a huge 2009 season while Evans recovered from knee surgery. Despite Williams' success, Evans returned to become Virginia Tech's leading rusher this past season.
It's safe to say that Evans' draft stock would be much higher without the knee injury. His 2010 season showed he is at least most of the way back to form and should be a good short yardage option for the Lions. He isn't afraid to lower the shoulder and doesn't shy away from contact. Evans has a nose for the end zone, he scored 11 touchdowns in each of his two full seasons of play as a Hokie. The limited role allows him to provide value to the team while still allowing for further healing/strengthening of his knee. The potential for a larger role in the offense would be a bonus considering his likely draft position. Long term potential for a larger role will be limited by a lack of top end speed and big play potential.
http://www.youtube.com/watch?v=E2CdtcW3J7w
Like what you see? Give SideLion Report a "like" on facebook, become a follower on twitter, or grab our RSS feed.