The ladies over at The Thrifty Table have graciously agreed to partner with the SideLion Report for a series of posts dedicated to tailgating. Every Tuesday we will feature a new recipe perfect for that week's tailgate, whether it be related to the Lions, their upcoming opponent, or the time of year.
This week we will start the series off with two recipes for cornbread, a sweet family favorite from Catherine and a savory and slightly spicy recipe from Jennifer. Go ahead Lions fans, start off the season with some hot, buttery cornbread. Be sure to wash it down with a big glass of Kool-Aid.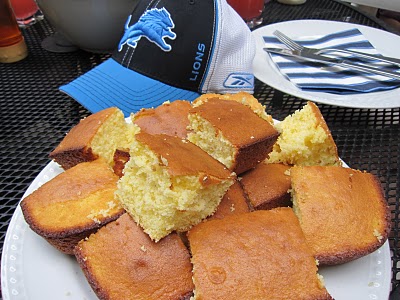 Catherine's Sweet & Easy Cornbread
1 box of Jiffy Yellow Cake Mix
1 box of Jiffy Cornbread Mix
3/4 C of milk
1 T of water
2 eggs
Preheat over to 375 degrees.
Grease a 9×13 baking pan or line muffin tins with papers.
Mix all ingredients well and blend for 3-4 minutes. Pour batter into greased baking pan or muffin pan. Bake for 15-20 minutes. Remove when a toothpick comes out clean. Enjoy!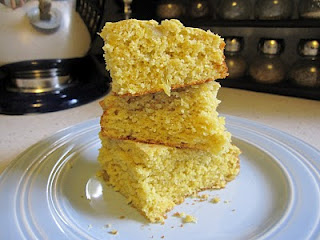 Jennifer's Green Chile Cornbread

1 c flour
3/4 c yellow cornmeal
1 tbs. sugar
1 tsp. baking powder
1 tsp. salt
1 tsp. ground cumin
1/4 tsp. baking soda
1 c fat-free buttermilk
2 eggs
1 (4 oz.) can diced green chilies, drained
3 tbs. butter, melted
1/2 c. low fat shredded cheddar cheese
1. Preheat the oven to 400 F. Spray an 8-inch square baking pan with nonstick spray.
2. Combine the dry ingredients together in a medium bowl. Combine the buttermilk, eggs, chiles, and melted butter in another medium bowl. Add the buttermilk mixture to the flour mixture and stir until just blended. Gently stir in the cheese. Transfer the batter from the pan and spread evenly.
3. Bake until the edges are golden, 17-22 minutes. Let cool in the pan on a rack for 10 minutes. Cut into 12 squares and serve warm.
*Taken from WeightWatchers My Turnaround Cookbook. Only 135 calories per square.